Boston College Football Notes
January 6, 2006
Final Thoughts
I hate the bowl system more than ever but the one positive to come out of the BCS system is that when there are exactly two undefeated teams at the end of the regular season, those two teams will face each other in a legitimate national championship game. That is exactly what we had on Wednesday and for once a college bowl game lived up to its hype. In a pre-BCS world, USC would have faced Penn State in the Rose Bowl and Texas would have played elsewhere. The Longhorns and Trojans would not have met and we probably would have had two champions once again. Wednesday night's game was a classic, a sharp contrast to the yawnfests and blowouts of BCS Championship games past. A playoff system would produce more of these types of matchups. This year, everything worked out perfectly (at least as far as the title game goes) but this season was the exception, not the rule.
It has been a great pleasure to listen to Keith Jackson do play by play over the years, but it is clearly time for Keith to hang up his microphone. On Wednesday night, Keith didn't even know where the ball was half the time. It is hard to watch the great ones, whether they be players, coaches or announcers, taint their legacy by hanging on longer than they should.
Here's an observation for anyone who takes rankings seriously. Wisconsin finished the season 10-3 and beat Auburn (now 9-3) by a score of 24-10 in the Citrus Bowl. In that game, Wisconsin outgained Auburn 548 total yards to 236. Final Rankings in both the AP and USA Today polls: Auburn #14, Wisconsin #15. Absolutely ridiculous.
I have to say, I was shocked that West Virginia beat Georgia in the Sugar Bowl. I thought that Georgia would win by at least two touchdowns. I hate to say it, but West Virginia is a much better team than I gave them credit for. Notre Dame, on the other hand, proved that they are exactly the frauds that I knew they were. Notre Dame belonged in the BCS about as much as Rosie O'Donnell belongs in the Sports Illustrated swimsuit calendar. Ohio State put up 617 yards on the Irish defense and averaged 7.6 yards per rush. Unfortunately, like a big name boxer who gets knocked out in the first round of a fight, Notre Dame still gets a check for about $17 million.
Boston College finished #18 in the final AP Poll and #17 in the final USA Today poll. In the AP, they somehow managed to finish behind a Miami team that lost by about 40 points in their bowl game. The three former Big East schools - Virginia Tech, Miami and BC - finished with the top three records in the ACC this season. I'm sure the other nine ACC schools have mixed feelings about this. On one hand, they can't be happy that the new kids on the block are dominating the conference. On the other hand, they must be thrilled that the newcomers have made the ACC one of the top football conferences in the country. It is no longer Florida State and the eight dwarfs.
The ACC has established itself as a defensive football conference. Last season, eight of the eleven ACC teams finished in the top 30 nationally in defense. By contrast, only one school finished in the top 30 offensively. This season, not a single ACC team finished in the top 50 nationally in total offense. BC was actually the top offense in the ACC but ranked only 51st in Division 1-A. Defensively, six of the top 20 defenses in nation were from the ACC. BC was 16th nationally but only 5th best in the ACC.
BC had some very impressive team stats this season. They were ranked 5th in the nation in run defense (91 yards per game) and 7th in scoring defense (15.9 points per game). They were 16th in total defense. The Eagles were somewhere near the middle of the pack in most other major categories. Two of the poorest rankings were turnover margin (80th out of 117 teams) and net punting (102nd). The Eagles did a better job avoiding penalties as the season moved along. The Eagles ranked 60th in penalty yardage and 48th in total penalties assessed.
Boston College's win over Boise State was their 50th since the start of the 2000 season. Though the Eagles haven't won ten games, finished in the top ten or played in a BCS game during that time, they have been one of the more consistent programs. Here is a list of the 17 schools from one of the top six conferences (ACC, Big 12, Big 10, Big East, SEC, Pac Ten) that have won at least 50 games since 2000.
| | | | |
| --- | --- | --- | --- |
| Rank | Team | Record | Bowl Rec |
| 1 | Oklahoma | 68-11 | 4-2 |
| 2 | Texas | 65-11 | 4-2 |
| 3 | Miami | 64-10 | 4-2 |
| 4 | Georgia | 60-17 | 4-2 |
| 5 | LSU | 59-18 | 4-2 |
| 6 | Ohio State | 58-17 | 4-2 |
| | USC | 58-17 | 3-2 |
| | Virginia Tech | 58-19 | 3-3 |
| 9 | Louisville ** | 56-20 | 2-4 |
| 10 | Auburn | 55-21 | 3-3 |
| | Florida St | 55-22 | 2-4 |
| 12 | Florida | 54-23 | 2-4 |
| 13 | Michigan | 52-21 | 2-4 |
| | Tennessee | 52-23 | 2-3 |
| 15 | Oregon | 51-22 | 2-3 |
| | Nebraska | 51-24 | 3-2 |
| 17 | BOSTON COLLEGE | 50-24 | 6-0 |
** In Conference USA prior to the 2005 season
---
January 1, 2006
BC Tops Boise State for Sixth Consecutive Bowl Victory
Boston College improved their bowl record to 6-0 this decade with a 27-21 victory over Boise State in the illustrious MPC Computers Bowl in Boise, Idaho. The Eagles are the only team to have won six bowl games in the past six years. The coaching staff and the players deserve a lot of credit for the current bowl winning streak. It isn't easy to win six in a row no matter who you play. Boston College deserves even more credit for this win because it was, for all intents and purposes, a road game. Even the bowl game's banquet, which was attended by both teams, turned into a Boise State pep rally. The MPC Computers CEO took it a step further by joking about Mathias Kiwanuka's last name at the banquet (LINK BELOW). Clearly, this was a third rate bowl run by third rate people. An 8-3 team from a top conference should not be relegated to a bowl such as this. It appears that the MPC Bowl will be eighth in the ACC selection process next season so Boise won't be getting an 8-3 (and Top 20) ACC team in the future.
At this point, it is difficult to handicap the 2006 Eagles. On the down side, they are losing several outstanding players. Blackmon, Ross, Trueblood, Miller, Washington, Henderson, Brown and of course Kiwanuka will all be difficult to replace. On the plus side, Matt Ryan will begin his junior season with several starts under his belt. He'll have both Whitworth and Callender in the backfield and plenty of talented receivers to throw to. Tony Gonzalez could have a very big year in 2006. Only Jazzmen Williams will graduate among the top eight defensive backs on the current depth chart. The defensive front seven will lose four starters, but many of the replacements will already have starts under their belts. The silver lining to the injuries suffered by Toal, Kiwi and Washington is that the backups were able to see significant action. Raji and Larkin should have breakout years in 2006. Toal is already a superstar. There are plenty of reasons to be excited about the 2006 season.
I get more emails on future schedules than any other subject (including hate mail from Notre Damers). I do not have any inside information. As soon as I know the schedule, I will post it. I can tell you who BC plays and where. Hopefully, we'll know the "when" sometime in January. There are six ACC teams that Boston College will play every year. These are the five Atlantic Division teams and their cross division rival, Virginia Tech. BC hosted Florida State, NC State and Wake Forest this season. Next year, they will play those three teams on the road. Three teams BC visited in 2005 - Maryland, Clemson and Virginia Tech - will play in Chestnut Hill in 2006. The other two ACC games will be part of the conference rotation. This season, BC played North Carolina and Virginia. Next season, they will visit Miami and host Duke. The non-conference opponents are Brigham Young, Buffalo and Maine at home and Kent State on the road.
Links
---
December 4, 2005
BC Headed to Boise
Sunday was the annual "BC Football Bowl Selection Disappointment" Day. This is not to be confused with the annual "BC Basketball Tournament Selection Disappointment" Day. That will be held in March. It is easy to get the two days confused because they both involve Boston College sports teams being downgraded in favor of teams that sell more jerseys and/or have more well-known coaches. At least in basketball, there is some rhyme and reason to the process and most of the spots in the tournament are filled based on merit. The bowl selection process is a farce. Notre Dame is heading to the BCS and a $17 million payoff in spite of the fact that Navy was their second biggest win this season (or was it BYU?). Meanwhile, Boston College is headed to a less desirable bowl game than four ACC teams with a poorer record (not including automatic qualifier FSU). What's worse, BC beat three of those teams (Clemson, Virginia, NC State) this season. The Eagles beat Clemson on their home field and beat NC State in Chestnut Hill by 20 points but both teams were chosen before BC. Boise then selected BC (gee, thanks). I'm sure Georgia Tech and Virginia were thankful to be bypassed. Oh by the way, BC will be playing Boise State on its home field.
I don't think the ACC is to blame for BC winding up in the MPC Computers Bowl. From what I've heard, ACC Commissioner John Swofford lobbied for BC to receive a better bowl slot. The conference cannot force the bowls to take the most deserving team available. Also, the trip to the "Boise Bowl" is not, in any way, a mark against the decision to move from the Big East to the ACC. As I said, this is nothing new for BC. BC was shipped off to Detroit a couple of years ago. Last year, the Eagles whipped West Virginia on their home field yet it was the Mountaineers who ended up in the Gator Bowl. Big East Commissioner Mike Tranghese never expended an ounce of energy to help BC athletics. In fact, he may have even worked against BC at times. Let's put it this way, Mike Tranghese is to Jim Calhoun as Tattoo was to Mr. Rourke. The primary cause of the problem is that the Big East and ACC reached their agreements with these bowls prior to Miami, Virginia Tech and BC switching conferences. This is how Rutgers can end up playing Arizona State in Phoenix while BC is shipped off to the frozen tundra. This will all be rectified as soon as the existing agreements expire.
I want to make it clear that I am not trying to insult Boise. I hear nothing but good things about Idaho. In fact, the MPC Computers Bowl sounds like an opportunity for a great ski weekend. Unfortunately, playing a road game in sub-freezing temperatures on a Wednesday afternoon is not a fair reward for the players, coaches and fans of an 8-3 team from a major conference.
I'm not looking forward to next year's bowl selection process when we hear how BC "doesn't travel well" to bowl games. These people, either through a biased agenda or sheer stupidity, will cite Detroit, Charlotte and Boise as examples.

It makes me laugh to see the BCS supporters congratulating themselves for this year's matchups. They are touting the USC-Texas game and saying things like "see, the BCS works." As if we needed the BCS to tell us that USC should be playing Texas. They are thrilled with the Paterno-Bowden matchup. Never mind the fact that the game should be about as exciting as watching paint dry. Ohio State-Notre Dame is a very compelling matchup, but that doesn't excuse the fact that Notre Dame doesn't deserve to be there and that they have essentially stolen $17 million from Oregon and the Pac Ten. Pat yourselves on the back all you want gentlemen, the BCS is still a travesty.
I wonder if Tostitos can use the $17 million they are paying to Notre Dame for the Fiesta Bowl appearance as a charitable donation tax write-off.
There is some good news coming from this year's bowl season. We will have a legitimate champion this year. Not only will the only two undefeated teams meet in the championship game, but they are far and away the two best teams in the country. I think USC and Texas proved that on Saturday. The Trojans and Horns won by an average score of 68-11. I was sorry that UCLA took such a severe beating but I was very happy to see Colorado shamed on National TV. 70-3! It couldn't happen to a nicer program.
Globe Reporter Rips Boston College
Most of you have probably read the article by Joan Vennochi in Thursday's Boston Globe (link below). In her article, Vennochi slams Boston College for deciding to offer tickets to this year's ACC Tournament only to those making donations to BC of $10,000 or more. First let me say that she brings up an interesting point. There is a trade off between maximizing profits and taking care of loyal season ticket holders and students and BC needs to address where the line will be drawn. It makes perfect sense to reward the big donors, but it also seems unfair and shortsighted to exclude the longtime season ticket holders. These days are very good for BC basketball, but there will be lean years down the road and it is those loyal season ticket holders, not the big donors, who fill the seats when times are tough. BC also relies on these people to show up for exhibition and early season non-conference games (don't get me started on the fat cats who buy primo red seats and only bother to show up for the two or three biggest games). It would certainly be in the best interest of the university and the basketball program to offer ACC Tournament tickets, at least on a rotating basis, to all longtime season ticket holders. I would also hope that all BC seniors have an opportunity to attend the conference tournament.
Had the $10,000 cutoff been Vennochi's primary reason for writing the story, it may have been a legitimate article. Unfortunately, it is clear that this piece was written only for the purpose of taking a few cheap shots at BC. First, Ms. Vennochi makes some smug references to BC's religious affiliation. She writes "Well, at least the Jesuits value honesty, even when it reveals frank commitment to the bottom line" and later "Speaking of those Catholic and Jesuit mission and goals, they are an integral part of BC's athletic mission statement, posted on the university website. Just how quaint-sounding are they?" She then goes on to question how Boston College alums allocate their charitable donations. She asks "what if some of those wealthy BC donors gave just once to the Boston Raiders (a local Pop Warner team) ... or to some other charitible cause." Of course she is implying that those who donate large sums to Boston College are not donating to other causes. Obnoxious doesn't even begin to describe this article. The egomanical Globe writer apparently believes it is her right to question how others allocate their charitable gifts. Would Ms. Vennochi ever criticize one of the many Harvard or MIT billionaires for donating to their alma mater? My guess is no. I also wonder if Vennochi donated $10,000 to the Boston Raiders, or any charitable organization this year. Again, my guess is no.
I wondered, while reading this article, where all of this resentment Joan Vennochi harbors for BC comes from. Boston College is, at least by university standards, conservative and of course religious, two traits that most reporters and columnists find distasteful. I had a pretty good idea that there was more to it than that and suspected that I knew the answer. I found what I was looking for in Ms. Vennochi's bio on the Globe's website. She is, lo and behold, a graduate of Boston University. I'd estimate that the level of my surprise in learning that Vennochi attended B.U. was about equal to the level of my surprise in hearing that "Dude, Where's My Car?" was not nominated for an Academy Award. So we have a Boston University graduate tearing apart Boston College alumni for making large donations to Boston College. To use Vennochi's words, how quaint.
Here is a link to the article - A High Price for BC Glory (Dec 1).
---
November 28, 2005
Boston College's bowl situation remains up in the air. The Eagles could still be headed to one of seven different bowls. Assuming that Virginia Tech beats Florida State on Saturday and grabs the ACC's automatic BCS slot, these will be the remaining seven bowl-eligible ACC teams and the corresponding seven bowls that are now committed to an ACC team (the Emerald Bowl and Music City Bowl have been added during the past two weeks because other conferences will be unable to fulfill their quota).
| | |
| --- | --- |
| Team | Record |
| Miami | 9-2 |
| Boston College | 8-3 |
| Georgia Tech | 7-4 |
| Clemson | 7-4 |
| Florida State | 7-5 |
| Virginia | 6-5 |
| NC State | 6-5 |
Predictions
Bowl
Location
Date
Opponent
ESPN #1
ESPN #2
Sportsline
CFN
Gator Bowl
Jacksonville
Jan 2
Louisville
Miami
Miami
Miami
Miami
Peach Bowl
Atlanta
Dec 30
SEC
BC
FSU
BC
GA Tech
Music City Bowl
Nashville
Dec 30
Big Ten
GA Tech
GA Tech
Virginia
Virginia
Champs Sports Bowl
Orlando
Dec 27
Big 12
FSU
Clemson
FSU
FSU
Meineke Car Care Bowl
Charlotte
Dec 31
Big East
Clemson
NC State
GA Tech
Clemson
Emerald Bowl
San Francisco
Dec 29
Utah
Virginia
Virginia
NC State
NC State
MPC Computers Bowl
Boise
Dec 28
WAC
NC State
BC
Clemson
BC
The BCS/bowl system remains an absolute joke. Last year, college football finished the season with three undefeated teams. This year, Notre Dame will be handed a BCS bowl game (and more importantly a $17 million payoff) that they haven't earned. Boston College will finish with the third best record in the ACC but could end up in the conference's eighth best bowl game. College basketball has its politics when it comes to tournament invitations and seeding (as BC has found out the hard way in recent years) but for the most part, teams are selected based on merit. No one ever asks if a college basketball team "travels well." The college football bowl selection process is nothing more than a popularity contest. It is an affront to the spirit of college athletics. The only good news is that if USC and Texas win on Saturday, we will have a legitimate National Champion this year.
There is no doubt that one of the two at-large BCS slots will go to Notre Dame. Presumably, Ohio State and Oregon are neck and neck for the other slot. Here is a look at the BCS contenders (as if on field performance actually mattered). USC and Texas are both at-large BCS contenders even if they lose this weekend, but I haven't included them here. Virginia Tech and LSU would be BCS eligible even if they lose on Saturday but realistically neither will be considered for an at-large spot.
| | | | | | |
| --- | --- | --- | --- | --- | --- |
| Team | BCS Rank | Overall Record | Record vs BCS Top 25 | Record vs Sportsline Top 50 | Strength of Schedule |
| Ohio St | 6 | 9-2 | 2-2 | 5-2 | 3 |
| Oregon | 7 | 10-1 | 1-1 | 3-1 | 50 |
| Notre Dame | 8 | 9-2 | 1-1 | 1-1 | 43 |
| Miami | 9 | 9-2 | 1-1 | 5-2 | 33 |
| Auburn | 10 | 9-2 | 2-2 | 3-2 | 46 |
BC's national title hopes went up in smoke more than two months ago, but New England's second best college football team could be on their way to a national championship. The University of New Hampshire Wildcats are the top seed in the Division 1-AA playoffs. The Wildcats beat Colgate 55-21 this past weekend in Durham to advance to the quarterfinals. They will host Northern Iowa on Saturday. UNH has one of the top offenses in the country led by Sophomore Ricky Santos who has completed 71% of his passes this season for 3,452 yards, 36 TDs and only 9 INTs. He has also rushed for 399 yards and 8 TDs. New Hampshire is averaging 43.4 points per game. The Northern Iowa game will be televised on ESPN Gameplan at 11am and shown on ESPNU tape delay at 9:30pm.
---
November 21, 2005
Georgia Tech's win over Miami on Saturday night muddied the ACC bowl picture. The loss by the Hurricanes virtually eliminated the ACC from at-large BCS bowl contention. One BCS spot will go to Notre Dame if the Irish can topple the mighty Stanford Cardinal next week (I say "mighty" because Stanford will be the third toughest opponent Notre Dame has played this year). The other spot, most experts believe, will go to either Ohio State (9-2) or Oregon (10-1). Virginia Tech will represent the ACC Coastal if they can win their season finale against North Carolina next week. They would then play Florida State in the inaugural ACC Championship Game. If Virginia Tech wins the ACC Championship Game they will head to the Orange Bowl with Miami almost certainly going to the Gator Bowl. That would leave BC, Florida State, Georgia Tech and Clemson to fill spots in the Peach Bowl, Champs Sports Bowl and Meineke Car Care Bowl. An ACC team will also go to the MPC Computers Bowl in Boise. That spot could be filled by one of the teams I just mentioned or another ACC bowl-eligible team like the winner of next week's Maryland-NC State game. Virginia is bowl eligible, but there is little chance that they will return to Boise for a second consecutive year. There are also some bowl spots that will be left open because teams from other conferences will have more bowl openings than eligible teams. The Boston Globe has mentioned the Music City Bowl (Dec 30th in Nashville) and the Liberty Bowl (Dec 31st in Memphis) as possible destinations for BC. The bottom line: anything can happen.
There are many factors impacting the bowl selections. Obviously, a team's record and the quality of their play in recent weeks makes a difference but it is only part of the equation. The bowls are looking for teams that will bring a large number of fans to the game. The bowl committees want to fill the seats and the bowl cities are interested in selling hotel rooms and filling restaurants. They are also looking for attractive matchups that will boost television ratings. Bowls also try to avoid scheduling a rematch of a regular season game and they typically don't invite the same team to the same bowl two years in a row. Here are some of the issues that will impact this year's bowl selection process:
Florida State and Clemson are more attractive to the bowls than BC and Georgia Tech because they will bring more fans to the game. I think BC's image as a team that "doesn't travel well" is a bit unfair because the Eagles have played in so many undesirable bowl games against undesirable opponents in undesirable locations. That could happen again this year if BC is shuffled off to Charlotte or Boise.



Last year, BC played in Charlotte (where this year's Car Care Bowl will be held) and Georgia Tech played in the Champs Sports Bowl in Orlando. This surely increases the possibility of BC heading to the Champs Bowl, but does not rule out the Car Care Bowl.



The Peach Bowl (ACC vs SEC) will avoid regular season rematches: Clemson/South Carolina, Georgia/Georgia Tech, Florida State/Florida. This could work in BC's favor. If the Peach chooses Florida, Florida State is not a possibility. If they choose Georgia, Georgia Tech is out of the running.



The Peach Bowl faces a dilemma if they choose Georgia Tech. On one hand, Georgia Tech would bring plenty of fans to the game. On the other hand, most of those fans live in Georgia and therefore would not need hotel rooms and would not pour as much money into the local economy. Another factor that could affect the Peach Bowl decision is the Sugar Bowl which will be held in Atlanta this year. If two out of town teams are playing in the Sugar Bowl, the Peach Bowl may face less pressure to take two out of town teams.



Georgia Tech's game against Georgia next week will have a huge impact on their bowl positioning. A win gives the Jackets an 8-3 mark and back-to-back wins over Miami and Georgia. It would be very difficult, I would think, for the Peach Bowl not to choose them in that situation. If they lose, they remain in the pack with Florida State, BC and Clemson. If Georgia Tech wins AND Miami loses to Virginia, Georgia Tech can make a case for the Gator Bowl. This would create even more chaos because Virginia would then be 7-4 and could make a case for the Champs or Car Care Bowl.



If Florida State loses to Florida and then again in the ACC Championship Game, they would be 7-5 and would be on a four game losing streak. This would make the Noles less attractive to the Peach Bowl.



Hopefully, the ACC will upgrade its bowl contracts. The #7 team from the Big XII arguably has a better automatic bowl slot (the Champs Sports Bowl) than the #5 team from the ACC (the Car Care Bowl). The #6 team from the Big Ten goes to the Music City Bowl in Nashville while the #6 team from the ACC has to play in Boise. The biggest insult is that Rutgers could wind up in a better bowl than BC. The Scarlet Knights are projected to go to the Insight Bowl in Phoenix to play Cal.
If Florida State and Georgia Tech both lose next week, the ex-Big East teams (Virginia Tech, Miami and Boston College) will finish the year with the ACC's three best records.
Here are some links:
---
November 13, 2005
I was thinking "here we go again" eight minutes into last night's game, but the Eagles turned things around and played near flawless football for the final 52 minutes. There was good news all the way around. Matt Ryan completed only eight passes but played an outstanding game after three ugly drives to start the first quarter (more on that later). The BC running game was excellent, led by L.V. Whitworth (25 carries, 129 yards). Will Blackmon had three huge pass receptions for 151 yards that led to three scores and returned two kicks for a total of 70 yards. The BC defense gave up an awful 96 yard touchdown pass five minutes into the first quarter then terrorized NC State quarterback Marcus Stone for the rest of the game. BC registered eight sacks, but it could have easily been eleven or twelve. Mathias Kiwanuka played All American football last night. Kiwi made 12 tackles including 3 1/2 sacks. He also made himself a bundle of money by reminding NFL scouts what he can do when he's healthy. The BC defense held Andre Brown (427 yards rushing in his previous two games) to just 15 yards on 12 carries. Overall, NC State averaged just 1.6 yards per rush (including the sacks). NC State came into the game ranked third in the nation in average yards per kickoff return with 28.9. The BC coverage unit held them to just 19.5 yards per kickoff return and -0.3 yards per punt return.
There were a few negatives in the game, most of which occurred in the first eight minutes: Stone's 96 yard touchdown pass (which should have been an interception), Ryan's fumble and a big holding penalty. Larry Anam's roughing the punter penalty in the final minute of the first half could have been a disastrous for the Eagles, but it actually ended up helping BC thanks to Ray Henderson's interception and Matt Ryan's subsequent TD pass to Chris Miller. There were a few costly penalties, but unlike last week, the positives far outweigh the negatives.
Matt Ryan showed why most BC fans have been campaigning for him to become the starting quarterback for several weeks. Ryan's numbers were far from spectacular and he can (and will) play better before the year is over, but I think he showed why the Eagles are a better football team when he is behind center. First of all, Ryan appears to have much more confidence in his throws. He made two great passes downfield to Will Blackmon for big yardage (Blackmon deserves high praise for making the over the shoulder catches). Ryan clearly has a great arm. Secondly, Ryan made great decisions when pressured. NC State has one of the best defensive end tandems in the entire country, but Ryan was only sacked once and threw no interceptions. When the pressure was there, Ryan calmly moved out of the pocket and threw the ball away. Those are situations where Quinton Porter has been throwing interceptions or getting sacked. Thirdly, Ryan showed his ability to run the ball. No one is going to confuse Matt Ryan with Marcus Vick or Vince Young, but he has very good instincts when running with the ball as evidenced by his two touchdowns. The second run to the endzone was reminiscent of Marcus Vick.
There were only two things that bothered me yesterday. One is Brian Toal's shoulder injury. He left the game early and did not return. Hopefully, he will be back in the lineup against Maryland. The other is the fact that Florida State lost again, this time to Clemson. I really couldn't care less who wins the so-called Bowden Bowl. What bothers me is that had BC beaten North Carolina last week, the FSU loss to Clemson would have opened the door for BC to win the ACC Atlantic Division title with a victory over Maryland next week. With a win on Saturday, BC can tie Florida State at 5-3 in ACC play, but Florida State would go to Jacksonville for the championship game because they won the head-to-head battle in September.
On the plus side, FSU's collapse, coupled with Georgia Tech's loss to Virginia, could possibly put the Eagles back in Gator Bowl contention. Obviously, the Eagles would have to beat Maryland next week for that to even be a possibility. There is a realistic scenario where Miami and Virginia Tech would go the BCS and the Gator Bowl selection would come down to a BC team with three losses and a group of ACC teams with five losses. Here is that scenario:
Miami beats Georgia Tech and Virginia (both at home) then beats FSU in the ACC Championship to take the ACC's automatic BCS spot
Virginia Tech wins at Virginia and at home against North Carolina to finish 10-1 and takes a BCS at-large spot
BC beats Maryland and finishes 8-3
Florida State loses at Florida then loses the ACC Championship Game to finish 7-5 (with a four game losing streak)
Maryland plays NC State – the winner finishes 6-5, the loser finishes 5-6 and is not bowl eligible
Clemson loses at South Carolina and finishes 6-5
Georgia Tech loses at Miami and then at home to Georgia to finish 6-5
Virginia loses at home to Virginia Tech then at Miami to finish 6-5
North Carolina, Duke and Wake Forest would be bowl ineligible
In Summary:
Miami, 11-1 (BCS automatic)
Virginia Tech, 10-1 (BCS at-large?)
Boston College, 8-3
Florida State, 7-5
Georgia Tech, 6-5
Clemson, 6-5
Virginia, 6-5
Maryland/NC State, 6-5
This scenario would give BC a chance to go to the Gator Bowl. That doesn't mean the Gator Bowl would take them. The bowl selections are about which teams "travel the best" and the assumption (probably the correct one) is that BC would bring far fewer fans to the game than Florida State, Georgia Tech, Clemson or Virginia. Here are the bowls committed to the ACC:
BCS Bowl (probably the Orange Bowl) – January 3rd in Miami
ACC #2: Toyota Gator Bowl – January 2nd in Jacksonville (vs Big East or Notre Dame)
ACC #3: Chick-Fil-A Peach Bowl – December 30th in Atlanta (vs SEC)
ACC #4/5: Meineke Car Care Bowl – December 31st in Charlotte (vs ACC)
ACC #4/5: Champs Sports Bowl – December 27th in Orlando (vs Big 12)
ACC #6: MPC Computers Bowl – December 28th in Boise (vs WAC)
CollegeFootballNews.com is projecting BC in the Peach Bowl vs South Carolina. CBSSportsline has BC in the Car Care Bowl against South Florida. ESPN should have new predictions on Monday.
---
November 7, 2005
It's been more than 48 hours since BC's loss to North Carolina, but I think I am even more frustrated now than I was just after the game. The BC offense scored three touchdowns (one didn't count). The North Carolina offense did not score a touchdown. Yet somehow the Eagles managed to lose the game. Two plays pretty much ruined the day for the Eagles: (1) the opening kickoff that North Carolina returned for a TD despite the fact that the ball carrier fumbled and ran into his own player along the way AND (2) a BC touchdown that was taken away because of an illegal man downfield penalty. That's 14 points wasted. There was also a botched snap and subsequent missed field goal at the end of the half (3 more points). There was a North Carolina field goal that came after a premature whistle by one of the officials nullified a BC fumble recovery. Another UNC field goal was made possible by an mini immaculate reception by a Tarheel receiver on a key third down play. Add it all up and you have 23 points that came about because of mistakes or bad luck. That's not so bad when you lose by 30, but when you lose by 2 it's pretty hard to take.
The BC loss became a little more painful when Florida State lost later in the day to NC State. Had BC beaten North Carolina, the Eagles would have been able to win the ACC Atlantic with an FSU loss at Clemson and wins in their final two games. That is no longer a possibility. The loss pretty much ended BC's chance to play in the Peach Bowl and leaves them on the bowl game bubble along with Georgia Tech, Maryland, NC State, Clemson, North Carolina and Virginia. Ironically, Notre Dame is in a position to cost BC a bowl game. The Irish are almost certainly going to steal a more deserving team's at-large BCS spot and that team could very well be Virginia Tech if they finish 10-1 (Miami has the inside track to the ACC Championship Game). If Miami wins the Coastal and Virginia Tech gets an at-large BCS spot, the Miami/FSU loser will probably wind up in the Gator Bowl. That would leave four automatic bowl bids for the remaining bowl-eligible ACC teams. If, however, the ACC does not get an at-large BCS spot, there would be only three automatic slots left for the ACC teams on the pecking order below Miami, Virginia Tech and Florida State. Keep in mind that some conferences may not have enough bowl eligible teams to fill their automatic slots. That is likely to happen again this year and teams from the ACC would be among the most likely candidates to fill the void. For example, CollegeFootballNews.com is predicting that NC State will end up in the Gaylord Hotels Music City Bowl (yes, that is the real name of the bowl) because they believe the SEC will not have enough bowl-eligible teams to fill their quota.
Another note from the game. JP Sports play-by-play announcer Steve Martin ran his consecutive games calling Will Blackmon "Will Soloman" to three.
I don't think I've seen a series this year where someone's helmet didn't pop off his head in the middle of a play. I thought the equipment was supposed to be getting better, not worse.
Three of the four bowl prognosticators at College Football News, ESPN and CBS Sportsline are predicting that BC will play on December 27th in the Champs Sports Bowl in Orlando. BC's predicted opponents are: Texas A&M, Nebraska and Missouri. College Football News is forecasting a BC-Fresno State matchup on the Smurf Turf in Boise on Demember 28th (MPC Computers Bowl). All of those matchups would be a much better than the previously predicted tilt with Rutgers in the Meineke Car Care Bowl. Here is a list of ten things I would rather do than watch BC play Rutgers in the Car Care Bowl:
Have a six hour chat with Dan Henning about coaching
Go on a date with Hillary Clinton
Bathe my eyes in lemon juice
Watch an Oprah Marathon
Take a vacation in Morgantown
Attend a Notre Dame pep rally
Tour the Gymnastics Hall of Fame
Watch BC play UConn in the Car Care Bowl
Drive across the country with Rosie O'Donnell and Tom Cruise
Get on 50 Cent's bad side
Bowl Schedule
Bowl Predictions (ESPN)
Bowl Predictions (College Football News)
Bowl Predictions (CBSSportsline)

I am very glad that Tom O'Brien has decided to start Matt Ryan this Saturday against NC State. The offense clearly performs better with Ryan at the helm. It is very frustrating that Porter wasn't pulled much earlier against both Virginia Tech and North Carolina. I can't be too hard on Porter. He's played quite poorly of late but the year off, the injury and the weak game plan certainly haven't helped his situation. From what I have seen this year, Ryan has more zip on his passes, he throws downfield better and is a better runner. Like Porter, Ryan has a tendency to throw into heavy coverage so there are bound to be some frustrating moments over the next two or three games. Whatever happens the rest of this year, Ryan will be a better quarterback next season with (hopefully) three more starts under his belt.
Something had been nagging me all season. The Boston College offensive game plan seemed so familiar to me. I was convinced that I must have seen the Boston College playbook someplace before. Then it hit me. They are using the playbook from Tecmo Bowl.
The only good news about Notre Dame going to the BCS is that there would be a good chance they would be humiliated on National TV. That is unless they are matched up with West Virginia. The Irish are 0-7 in bowls since 1994 and the Mountaineers are 1-11 in their last 12 bowl games. I suppose that someone would win the game by accident.
---
October 31, 2005
Notre Dame Bias Watch
W-L Record
NCAA Rank
Polls
Team
Overall
vs AP
1-10
vs AP
11-25
SOS*
Off
Def
Avg
AP
USAT
Computer
Miami
6-1
0-1
1-0
33
62
1
31.5
5
5
10
LSU
6-1
0-0
2-0
40
39
17
28
6
6
14
Notre Dame
5-2
0-1
1-0
18
9
96
52.5
8
9
22
Florida St
7-1
1-0
1-0
66
23
11
17
9
8
14
Penn St
8-1
0-0
1-1
11
30
14
22
10
11
5
Georgia
7-1
0-0
0-1
49
42
8
25
11
10
12
Ohio St
6-2
0-2
0-0
5
52
13
32.5
12
12
8
Florida
6-2
0-2
1-0
16
67
5
36
13
15
16
Wisconsin
8-1
0-0
1-0
38
43
97
70
14
14
7
Oregon
7-1
0-1
1-0
56
12
53
32.5
15
13
9
BC
6-2
0-2
0-0
26
45
16
30.5
19
19
20
SOS*: Strength of Schedule Ranking
vs 1-10 and vs 11-25 refers to the AP Top 25 now, not when the game was played
The table above contains all one or two loss teams ranked 6-15 plus BC. Is Notre Dame receiving favoritism from the pollsters? I think the numbers tell the story. I can't think of a reasonable argument for Notre Dame being ahead of the three teams with one loss (Florida State, Penn State, Georgia) or two loss teams Ohio State and Florida (both with more difficult schedules and a better statistical ranking).
Bowl Prediction Update (for links, please take a look at my 10/28 notes below)
ESPN: Maisel - vs Louisville in the Car Care Bowl, Forde - vs South Carolina in the Peach Bowl
College Football News: vs Nebraska in the Champs Sports Bowl
CBS Sportsline: vs Rutgers in the Car Care Bowl
---
October 30, 2005
It should come as no surprise that Notre Dame has cancelled its series with Boston College. The Irish and Eagles were slated to play each year between 2007 and 2013, but Notre Dame has decided to end the series after the 2010 season. Notre Dame supporters will offer plenty of spin as to why they cancelled the series (scheduling conflicts, allegations that BC players vandalized the visitor's locker room in South Bend a few years ago, Miss Cleo's advice, etc) but we all know the real reason. Notre Dame is tired of losing to BC. They are extremely embarrassed that they have lost to BC four years in a row and five times in six seasons. I am sure that Notre Dame originally scheduled BC because they were confident they could beat the Eagles on a regular basis. In recent years, they haven't beaten BC at all. Notre Dame wants to soften their schedule and BC doesn't fit those needs. They want an opponent that they can beat five times every six years. Helloooooooooo, Rutgers. I am very disappointed that Notre Dame bailed out. BC and Notre Dame played two of the greatest games I have seen (1993 and 1999). Notre Dame fans will deny it, but in recent years the BC game has become the game they care about most. Notre Dame has been BC's biggest game since the series began in 1992. BC-Notre Dame has become a good rivalry (insert Domer denial here). It's a shame that Notre Dame took the cowards route, but there are still four more games left in the series and there is always a chance that BC and Notre Dame will meet in future bowl games.
Notre Dame's attitude about BC is summed up nicely by someone named "The Rock" in NDNation.com (link below). "The Rock" (only a Domer could be arrogant enough to call himself - or herself? - "The Rock") throws out the usual array of excuses for Notre Dame failures. The most commonly used excuse is that many of the BC wins came against Bob Davie and Ty Willingham (do Notre Dame's wins over Dan Henning count?). Of course, in Willingham's first year, Notre Dame fans were discounting the BC wins against Davie and claiming that things would now be different with the great Ty Willingham in charge. I look forward to 2008. Notre Dame fans will be claiming that BC's six consecutive wins occurred only because of the poor coaching of Davie, Willingham and Charlie Weis. In 2010, they will be saying that the eight consecutive wins don't count because they came against lousy coaches like Davie, Willingham, Weis and .. who knows .. Jerome Bettis? Gerry Faust Jr? Bill Belichick? The ghost of Vince Lombardi? The other Domer tactic is lashing out with personal attacks. You'll see a lot of it in Rock's report. Rock claims that BC betrayed the Big East by leaving for the ACC. This is silly coming from the Big East football schools (they had no problem looting Conference USA), but at least I can understand their need to vent. It is far beyond silly and the ultimate hypocrisy for Notre Dame boosters to complain about BC's relationship with the Big East. Had Notre Dame joined the Big East in football (as they did in all other sports), Miami probably would not have left the Big East. Obviously, if Miami had stayed in the Big East, BC would have as well. Notre Dame has used and abused the Big East for years. The Notre Dame basketball programs have improved dramatically because of their entry into the Big East. Meanwhile, Notre Dame football has been allowed to repeatedly steal bowl bids from more deserving Big East teams. Big East fans should be much more upset with the locusts from Notre Dame than with Boston College.
I am not claiming that Notre Dame will be a bad team in the coming years. The national media is in love with them, the refs usually hand them one or two calls per game at home, the AP and USA Today voters rank them five to ten slots higher than they deserve, they are the only team that has their own network TV contract, they don't have to share bowl revenues with conference foes and they get a free bowl upgrade every year (which is an improvement because prior to the BCS coming into existence, Notre Dame would finish 6-5 and head to the Fiesta Bowl). These built-in advantages, coupled with a Big East and military academy laden schedule, should allow Notre Dame to win seven or eight games on a regular basis. They might even win a bowl game for the first time since 1994 (0-7 since then if you are scoring at home). To be fair, they did lose two of those seven games by fewer than 17 points. I'm sure that Vanderbilt would also be a BCS contender if they were blessed with Notre Dame's silver spoon.
Here are some links:
Our friends at Rutgers stormed the field and tore down the goal posts the other day in New Jersey. What was the occasion you ask? The answer: a ten point win over national powerhouse Navy and their sixth win of the year (making them bowl-eligible). Officials from the "Bowl Glenn Foley Just Got Off" Bowl attended the game.
---
October 28, 2005
I have to give credit where credit is due. The Virginia Tech Hokies were a dominant football team last night. Clearly, the Eagles did not play their best game but the 20 point deficit was much more a result of what Virginia Tech did well rather than what Boston College did poorly. The statistics tell the story. Virginia Tech gained 492 yards to BC's 183. They were 8 of 16 on third down conversions compared to BC's 5 of 13 (and 3 of 11 following two early first downs). The Hokies held the ball for 39 minutes and were able to run the ball 53 times. It certainly wasn't one of those flashy USC-style games where the offense marches down the field twenty yards at a time. It was slow torture. Many of the Hokies first downs came on three play series that gained between 10 and 12 yards. Tech didn't make many big plays but they made up for that with incredible efficiency. The only flaw in Virginia Tech's game was that they stalled in the red zone more often than not (the BC defense deserves a lot of credit for this). I can't say many good things about Marcus Vick the person (I'll leave it at that), but Marcus Vick the quarterback was exceptional last night. He threw only six incomplete passes (no interceptions) and killed BC with his running ability.
Unlike the debacle against Florida State, mistakes did not cost BC this game. However, there were costly mistakes that made a large impact. Specifically, the two five yard false start penalties in BC's second and third drives. BC gained two first downs in their first drive and appeared to have a little offensive momentum. The penalties in the next two series ruined that. It is tough enough to gain ten yards in three plays against Virginia Tech. You don't want to have to gain 15. The Porter interception obviously sealed the game for VA Tech, but I think it is safe to say that BC was not going to pull off a three-minute miracle like they did against Wake Forest.
This was not a case where one or two plays clearly cost BC the game (unlike so many losses in the past five years). However, there are two key plays that, had they come out in BC's favor, may have given the Eagles a chance to steal last night's game. The first came with three minutes left in the first half and VA Tech leading 13-7. On third down and 10, Vick threw a pass over the middle that Josh Hyman snagged with outstretched arms for a first down. It was a great catch. The Hokies proceeded to march down the field for a touchdown which made the score 20-7 and left the Eagles with no time for an ensuing drive. Had Hyman not made the play, BC would have had the ball with three minutes to drive down the field. Even if BC hadn't scored, they could have at least kept the Hokies off the board and gone into halftime down only 13-7. The second big play came with about 12 minutes left in the third quarter. Quinton Porter overthrew Will Blackmon on what would have been a touchdown. The Eagles settled for a field goal to make the score 20-10. Had those two plays worked out, BC would have been ahead 14-13 early in the third quarter rather than down 20-10. Would they have won? Probably not, but it would have been a different game. BC could have been more patient trying to establish the run and the BC defense would have been on the field for three less minutes. Ahead 20-10 the Hokies were still in their comfort zone.
If there is good news, it is probably the defense in the redzone. The BC defense was on the field two-thirds of the game and most of BC's possessions were three and out, but the defense was able to hold Virginia Tech to two touchdowns in seven trips inside the BC 25. Johnny Ayers averaged 45.4 yards per punt. I can't argue with that.
Let the quarterback controversy begin. Thursday was a rough night for Quinton Porter. He completed only 13 passes for 139 yards and his night ended with an awful interception that he threw up for grabs to avoid a sack. I cannot fault Tom O'Brien for starting Porter against Virginia Tech and I can't be too hard on Porter for his performance. Based on what I have seen, Virginia Tech has the best defense in the country and they were on top of their game last night. My complaint is that O'Brien didn't make the switch to Matt Ryan earlier in the game. I kept waiting for Ryan to emerge, but the switch didn't occur until the game was essentially over. I was shocked that Ryan didn't come in after Porter completed that pass to offensive linemen James Marten. I doubt that Ryan would have any more success than Porter last night, but clearly the offense was not clicking with Porter behind center. I think Ryan's running ability would have been an asset against the speedy Tech defense. I think it is time for the Ryan era to begin and I think the younger receivers need to see the field more often.
This is definitely the year of the annoying announcer. Kianuka? Collander? Worst was all was Kirk Herbstreit repeatedly predicting Virginia Tech big plays. As I said in my BC-VA Tech Preview, Tech's kick blocking is more reputation than reality at this point. Did Herbstreit fail to do his research or does he still think it is 2002? The sucking up to Marcus Vick was over the top, though I'll admit that last night he deserved it.
What is the deal with those Virginia Tech jerseys with the two different-colored shoulders. Is this college football or a French fashion show? Apparently, Halloween started four days early in Blacksburg this year. I also noticed that many of the Virginia Tech players are majoring in "Apparel, Housing, and Resource Management." Maybe that explains the jerseys.
If Virginia Tech, USC and Texas all go undefeated, there could be quite a lot of drama as the BCS Championship Game is determined. I imagine that an undefeated USC team would be #1 but Virginia Tech would stand a great chance of hopping over Texas. The Horns second toughest game this year is a soft Texas Tech team (Texas also beat Ohio State). To remain undefeated, Virginia Tech will have to beat Miami and then probably Florida State in the ACC title game. Virginia Tech may also get additional second place votes if Texas has a close victory against one of their upcoming opponents. Texas, unlike Virginia Tech, is getting some first place votes. Some of those might shift to USC or even Virginia Tech if Texas plays a poor game. Then of course there are the computers which will be increasingly favorable to Virginia Tech as their schedule toughens and Texas' schedule weakens. It doesn't appear that either Alabama, Georgia or UCLA could move up to #2 without two of those top three teams losing at some point. As usual, I will be rooting for more than two undefeated teams which will again expose the BCS as a joke and move us one step closer to a playoff.
Last night's loss essentially put to an end Boston College's division title and BCS hopes. It would take two Florida State conference losses (and BC winning their final three games) for the Eagles to take the Atlantic Division. I'd say that there is about a 1% chance of that happening. As far as bowl selection goes, if the Eagles finish 9-2 they would conceivably be the fourth choice among ACC schools (behind VA Tech, Miami and Florida State). The ACC stands a good chance of getting an at large BCS bid, especially if Notre Dame loses one more game. Two BCS bids for the ACC would put the ACC's third choice in the Gator Bowl (vs the Big East or Notre Dame) and the fourth choice in the Peach Bowl (vs SEC). Beyond that the ACC has a spot in the Meineke Car Care Bowl (vs Big East) and the Champs Sports Bowl (vs Big Ten). CBS Sportsline is actually predicting that BC and Rutgers will meet in the Car Care Bowl (which would make it "The Bowl Glenn Foley Just Got Off"). College Football News has BC in the Peach Bowl against Tennessee. ESPN's two experts have BC/Florida in the Peach and BC/Louisville in the Car Care Bowl. Here are the links:
Bowl Schedule
Bowl Predictions (ESPN)
Bowl Predictions (College Football News)
Bowl Predictions (CBSSportsline)

---
October 16, 2005
The new top 25 polls are out. As I expected, BC is ranked 11th in the USA Today poll behind Miami, LSU, Florida State and the seven unbeaten teams. In the AP poll, BC is ranked 13th behind those teams I just mentioned, Penn State and Notre Dame. Despite having two losses and a record of 0-2 against the top 25, the Irish were ranked 9th by the AP voters. That is obscene. Yes, Notre Dame played a great game against USC but they lost. No other team in NCAA football gets credit for losing. Notre Dame's biggest win is against a Michigan team that came within one second of being 3-4. If BC had played the exact same schedule as Notre Dame with the exact same results, they would be ranked around 20th. Imagine if Notre Dame had beaten USC. The AP toadies probably would have ranked them #1 in the country. Here are the polls.
The Notre Dame suck-ups will argue that the Irish are one of the ten best teams in the country and therefore should be ranked in the top ten. First of all, wins and losses are supposed to come first, especially at this point in the season. Is it reasonable to rank Notre Dame ahead of all the major conference teams with two losses? Maybe. Should they be ahead of an undefeated Big XII team in Texas Tech team, a Florida State team that has beaten the 6th and 13th ranked teams, and BC and Penn State who have one loss and wins over teams in the top 25? Absolutely not. Secondly, Notre Dame has turned things around under Charlie Weis but they are certainly not the cream of the crop. Notre Dame is ranked 101st in the country in total defense and 114th in pass defense (out of 117 Division 1-A teams). It's true that they have faced some of the better offenses in the nation in Michigan State, Purdue and USC, but a 101st ranking in total defense is not the sign of a top ten team. As for the Notre Dame offense, they have put up big numbers but much of that has come against Michigan State (84th in defense), Washington (104th) and Purdue (106th). Statistically, the best defense Notre Dame has faced is Pittsburgh (29th). The Irish have four doormats left on the schedule plus Tennessee so the game against the Vols in South Bend will likely determine Notre Dame's BCS fate.
In the stat department, safety Jamie Silva has a total of 27 tackles in his last two games. He now leads the Eagles in tackles with 46. Ray Henderson (41) and Brian Toal (36) are second and third. Will Blackmon caught eight passes for 100 yards the opener against BYU. He has 20 catches for 188 yards in the five games since. Tony Gonzalez has 12 catches for 182 yards and 2 TDs in the last three games. The Eagles are outgaining their opponents by an average of 151 yards per game this season (compared to 53 yards per game for the entire 2004 season). Boston College now has 20 sacks (the opposition has only five). BC has converted 48% of their third down opportunities (compared to 30% for BC opponents). On the down side, BC only has four interceptions (the opponents have eight).
---
October 15, 2005
I find myself filled with both pride and disappointment after watching the game today. I am proud that the 2005 version of the BC Eagles never gives up even in the face of great adversity. Today, the Eagles bounced back after Wake Forest took a 17-0 lead midway through the second quarter. They bounced back after a disastrous end to the first half. Most importantly, the bounced back after falling behind by two scores with three and a half minutes left in the game. The BC defense was on the field for 35 minutes of play yet managed to hold the Deacons to a three-and-out in the final minutes when a first down would have sealed the win for Wake Forest. This is one gutsy football team. I am disappointed, on the other hand, with the deluge of mistakes. No team can be expected to play error-free football in awful weather conditions, but five turnovers, a blocked punt and seven dropped passes? I'd love to know the percentage of teams in the past 50 years that have been -5 in the turnover department and won the game. It can't be more than 0.5%.
As far as the mistakes go, I was happy to see that BC cut down on penalties. The Eagles were whistled for only three infractions and one of those was a ridiculous celebration penalty on Tony Gonzalez. If a player so much as smiles after scoring a touchdown these days, the refs throw a flag. Wake Forest, quite amazingly, emerged from the slip and slide field conditions without turning the ball over though they were very lucky to recover their own fumble three times. However, Wake was penalized 12 times for 110 yards.
Coach O'Brien will have an interesting decision heading into the big game with Virginia Tech a week from Thursday. Will he hand the ball back to Quinton Porter or will Matt Ryan get the start against the Hokies? On one hand, Ryan looked Flutiesque in those final two drives while Porter was downright TonyEasonian. Porter threw three interceptions but it very well could have been six or seven. In fact, the touchdown to Miller should have been an interception. Porter has a nasty habit of throwing the ball up for grabs when he's pressured. On the other hand, Porter played well in his prior starts and it might not be fair for one awful game in poor weather conditions to cost him his job. It is a tough decision and I wouldn't criticize O'Brien either way. However, he needs to have a "quick hook" if the starter struggles.
I was a little disappointed in the running game today. The Eagles rushed for a net of only 84 yards, all in the second half. Callender has been the hot back of late, but Whitworth had much more success today. Because they fell behind so early, BC wasn't able to run the ball as much as they would have liked. They are going to need a better running attack against Virginia Tech.
Once again, most of the credit goes to the BC defense. Even without Washington and Kiwanuka, the Eagles held the Demon Deacons to only 2.6 yards per carry. They had a nice goal line stand after the first turnover to hold Wake to a field goal. They nearly duplicated the feat after the second turnover, but Chris Barclay made a spectacular run to the goal line on third down. The BC defense was truly only responsible for 7 points (in my opinion, points resulting from any drive of 30 yards or less is not the responsibility of the defense). Using this logic, the defense was responsible for only 7 points against Florida State as well. The Eagle defense allowed 193 total yards in Wake Forest's first five drives of the game. Wake generated only 134 yards on their final 11 drives.
With all of the dropped passes today, it was ironic that BC won the game on a spectacular catch by Kevin Challenger in the endzone. Jason Lilly also made a great catch for a big first down and Tony Gonzalez had one of the better games I've seen from a BC receiver over the past few years.
Speaking of Challenger's catch, I could not believe the reaction of play-by-play announcer Steve Martin. Martin actually said while viewing the replay "Does the second foot get down?" I was in shock. How in the world does an NCAA Division 1-A play-by-play man not know that in college football, you only need one foot in bounds for a legal catch. My mother watches one college football game about every four years and I'm willing to bet that she knows that a receiver needs only one foot down in bounds for a completion. There are probably no more than 40 D-1 college games on television each week. You would think that we could find 40 guys who know at least the most basic rules of college football. He also mentioned that "BC doesn't have any timeouts" while Wake Forest was in the middle of their final drive and trailing by five. On top of that, Martin called Will Blackmon "Soloman" two or three times, which is actually an improvement because he called him Soloman five times when BC played Clemson. Jefferson Pilot Sports should hire the other Steve Martin. At least that Steve Martin would crack some funny jokes.
The "Weekly Heart Attack Moment" came on the second to last play of the game when Demir Boldin somehow got past the BC defense and nearly caught the winning touchdown pass from about 45 yards away. Luckily, Randolph's throw was off the mark.
Boston College actually moved back into a tie for first place in the ACC Atlantic by virtue of Florida State's loss to Virginia. FSU still has the inside track to the division title because of their head-to-head victory over BC (which gives them the tiebreaker). BC would need win their final four games (including VA Tech) and hope FSU loses at least one of their remaining ACC games to represent the Atlantic Division in Jacksonville. It would be quite ironic to have a BC-Miami or BC-Virginia Tech matchup in the inaugural ACC Championship Game. I don't think the ACC folks would be too happy with that outcome.
It was a great day of college football .. BC won in the final minute, Notre Dame lost in the final minute and the U Cons lost to Cincinnati. Speaking of the Big East, Louisville was expected to go undefeated in the regular season but they have already lost twice. They are in seventh place in the Big East ahead of only Syracuse. How bad are things for the Orange? Well, they were blown out at home by Rutgers today. Need I say more?
---
October 10, 2005
Here are a few comments about Brad Butler's cheap shot on Mathias Kiwanuka and the personal fouls assessed to BC following the Butler hit.
"I just think it's a situation they need to look into and decide if that's the way we're going to play football in the conference"
- Tom O'Brien on the hit by Butler
"I think we did a very poor job and it reflects upon me and everybody on this football team that once the incident was over, we almost tried to escalate it, which we shouldn't have done. We lost our poise a little bit, which could have cost us the football game."
- Tom O'Brien on the personal fouls assessed to the Eagles
"Suffice it to say that this was just one of a number of plays in the game on either side in which maybe there was a little more exuberance than necessary"
- Al Groh
"As far as in the past, I play hard and I play through the whistle. That's how every offensive lineman plays."
- Brad Butler
"Craig Littlepage, Al Groh and the University of Virginia are to be commended for how they have addressed this issue. The league joins Virginia in taking a strong stand against this kind of inappropriate behavior and sending a clear and definitive message that the Conference and its member institutions will make every effort to exemplify the very best qualities of sportsmanship."
- ACC Commissioner John Swofford
I find it amazing that a Virginia player dished out what SI.com called the "Dirtiest Play in Football History" (LINK) yet it was Tom O'Brien who was apologizing for the retaliatory actions of his players, while Al Groh was looking for excuses. I'm not one to blame a head coach or a football program for the actions of one player as long as they take swift and decisive action. Al Groh and the University of Virginia fell short on both. If not for the media attention, Butler may not have been suspended at all. In the end, he received a meager one game suspension and BC received a half-hearted apology. What's worse, ACC Commissioner John Swofford actually complimented Virginia for their handling of the situation. Unbelievable.
If you haven't seen the Butler cheap shot, you can watch the video by visiting Atlanta Eagle's Blog. Scroll down to "More fallout from the Butler cheap shot" and click on "longer version of the play" to view the two minute video capture. It has to be seen to be believed. I'd call Butler a punk, but that would be an insult to punks.
BC moved up to #14 in both the AP and ESPN/USAToday polls. The Eagles are also #14 in ESPN's Power 16 rankings, #14 in the Harris Interactive Poll and #15 in the CBS Sportsline 119.
---
October 9, 2005
Somehow the Eagles managed to beat the University of Virginia on Saturday despite an array of bad breaks and miscues including: three missed field goals, the ejection of Al Washington and Mathias Kiwanuka, the loss of Jazzmen Williams early in the game, a turnover in the red zone, and 111 yards in penalties. Quinton Porter was rusty early, missing an open receiver and throwing into heavy coverage a couple of times, but he was excellent over the final three quarters. The running game seems to be getting better each week. Callender and Whitworth combined for 192 yards (6.9 yards per carry) and Brian Toal picked up a key first down and two touchdowns. BC came up just three yards short of 500 for the day. There has been a lot of talk about the BC defense this season, but the offense trails Florida State by only one yard for the top spot among ACC teams.
The BC defense allowed 350 yards (85 yards above their average) to the Cavaliers but much of that occurred with Washington and/or Kiwanuka out of the game. The Boston College replacements on the defensive line, including Jake Ottolini, did a great job. Kevin Akins, who replaced Jazzmen Williams after a quad injury took the senior out in the first quarter, made several big plays including an interception. He also broke up a third down pass attempt. I think this game was a testament to the depth on the BC roster. I'm not sure that the BC team from three or four years ago could have survived the loss of three key defensive starters in the same game.
The penalty situation continues to plague BC. The Eagles were penalized another 11 times on Saturday to raise their total to 44 for the season. They have been penalized 27 times in three ACC games. One penalty I cannot fault the Eagles for was the personal foul by Al Washington after the blatant cheap shot on Kiwanuka by Virginia left tackle Brad Butler. Butler's after the whistle shot on Kiwi's injured leg was a deliberate attempt to injure BC's best player. If Al Groh has a shred of dignity, he will suspend Butler for next week's game. I am also concerned that Washington was tossed and Butler was allowed to continue. I think BC has earned most of the penalties that they have been assessed in ACC play, but the referees seem to be overlooking a lot of opponent penalties. At times it seems as if the opposing offenses have been given immunity from being called for holding on Kiwanuka. At any rate, BC cannot expect to beat teams like Virginia Tech, NC State and Maryland if they continue to commit these silly penalties.
The Butler cheap shot cost the Eagles Washington and eventually Kiwanuka, but the good news is that it fired up the team and awoke the crowd. BC needs to see that type of intensity more often, from the coaches, the players and the fans.
BC has some nice statistics through the midpoint of the season. They are currently fifth in the nation in run defense and tenth in total defense. On the offensive side of the ball, they rank 26th nationally in total yards per game. They are ninth in third down conversion percentage at 51.5% and eighth in first downs per game at 25.2. BC's downfall is special teams. Ryan Ohliger (Owl-i-jer according to Brent Musburger) has missed five of eleven field goal attempts this season. The Eagles rank 81st (out of 117 teams) in kickoff returns. They are in the bottom half nationally in net punting and punt returns. On the plus side, they have been very good on kick coverage. They have also blocked two punts, including a huge block against UVA by Paul Anderson, and a field goal.
A win against Wake Forest next week will make the Eagles bowl eligible at 6-1. The bowl scenarios remain limitless, but I would not be a bit surprised to see BC playing in a bowl game against Notre Dame, West Virginia or even UConn. The following is a link to the bowl schedule and current bowl predictions. Notice that the ACC and the Big East/Notre Dame are pitted against each other in both the Gator Bowl and the Meineke Car Care Bowl. There is actually a Poinsettia Bowl, believe it or not.
Bowl Schedule
Bowl Predictions (College Football News)
Bowl Predictions (CBSSportsline)

---
September 25, 2005
The Eagles nearly gave away their second consecutive ACC game but came though in overtime to post their first ACC victory. Boston College outgained Clemson 385 yards to 251, had 25 first downs to Clemson's 13 and held the ball for 36 minutes of play. Still, they needed overtime to beat the Tigers thanks to 11 penalties for 76 yards and two interceptions, one in the Clemson endzone.
The BC rushing attack was solid on Saturday. They battered the Clemson defense for 164 yards on 46 carries. Andre Callender was one of the stars of the game. He rushed for 116 yards on 22 carries. Matt Ryan made some bad throws but he made some very good ones as well. His pass to Larry Lester on third down in overtime was the biggest completion of his career and may have saved BC's season. Ryan was 24 of 42 for 221 yards and two interceptions. Ryan has been forced into some terribly difficult situations over the past two years. It was great to see him come through against Clemson after the debacles against Syracuse last season and Florida State last weekend. Those losses were not completely his fault, but I'm sure his confidence was shaken a bit. A big win in hostile territory should do wonders for the sophomore's confidence.
The offense did a great job grinding out first downs but it was the BC defense that really won this game. Preseason All-ACC quarterback Charlie Whitehurst made few big plays on Saturday. He finished the day 19 for 28 for only 149 yards. The BC secondary simply would not allow Whitehurst to beat them deep. The linebackers and defensive line played well once again. Clemson had a little more success with the run than FSU (29 carries for 102 yards - 3.5 ypc) but most of that came on two plays, one for 27 yards and one for 20 yards. Most impressive was the fact that Clemson was 0 for 11 on third down conversions. By contrast, the BC offense converted 10 of 20 when facing third down.
The win keeps the Eagles in contention for the ACC Atlantic Division title but it will be an uphill climb. BC trails Florida State by one game and the Seminoles would win the division if the two teams end up in a tie at the end of the season because Florida State won the head to head battle last week. There are some other possibilities involving three-way ties, but it is way to early to think about that.
What is the deal with the horrible play by play announcers in college football. We suffered through the abysmal Paul Page when BC played BYU. On Saturday, the play by play man (whose name I can't even recall) called Will Blackmon "Soloman" FIVE times in the first half. You would think that someone would have been in his ear after the first or second time. Then there's the fact that they openly rooted for Clemson. I guess BC fans need to get used to being "that Northern team" for a while.
Callender appeared to be in the endzone before his knee hit the ground in overtime. That play should have been reviewed. Tom O'Brien needs to be on top of that. After seeing what happened last weekend against FSU there were no guarantees, even with first and goal from the one yard line.
What is going on with the dumb penalties? I can accept an occasional holding call or a pass interference but there is no excuse for repeated encroachment penalties on the defense. I think BC had six last week, one of which was declined. This is very much a reflection on the coaching. It has to stop.
Make no mistake though, O'Brien outcoached Tommy Bowden. Unlike Florida State last week, Clemson never made the adjustments they needed offensively. I was shocked by Bowden's gutless decision to play for overtime after Clemson regained possession with 1:10 left in the fourth quarter.
BC moved up to #21 in the AP Poll and #23 in the USAToday/ESPN poll. Six ACC teams are in the top 25 in both polls. Boston College is a 35-point favorite against Ball State next Saturday.
---
September 19, 2005
I really hope that Boston College's inaugural Atlantic Coast Conference game on Saturday is not a harbinger of things to come. BC Football has had more than it's share of agonizing losses over the past five years, but Saturday's game may take the cake. The Eagles dominated the eighth ranked Seminoles for the better part of three quarters, but managed to lose 28-17 thanks to a mix of questionable coaching, bad luck, mistakes, penalties and injuries. BC outgained the Seminoles by more than 100 yards, had ten more first downs (24-14), held the ball for 38 minutes of play and limited Booker and Washington to 30 yards rushing, yet it wasn't enough.
The first half of the game was particularly disturbing. BC was ahead by three points heading into the half, but they should have been ahead by three touchdowns. They held the ball for nearly 22 minutes in the first half and outgained Florida State 236-65. In fact, after BC's first possession of the second half (which resulted in a missed field goal), the Eagles had outgained the Seminoles 263 to 67, yet were still only ahead by three points. Here are a few more stats that are hard to fathom:
Drew Weatherford was 11 for 14 for 140 yards and a TD pass in FSU's 10th and 11th drives of the game. The rest of the game he was only 9 for 24 for 102 yards and an INT. In Weatherford's defense, his receivers dropped several passes.



Lorenzo Booker ripped off a 13-yard run on his first carry of the game. He and Leon Washington carried 12 times for only 17 yards from that point on.



During a stretch of seven drives (their second to their eighth), Florida State gained only 34 total yards.



Florida State gained 147 of their 256 total yards in just two drives.



Florida State scored 21 of their 28 points on only 37 yards of offense.
In my preview last week, I mentioned that the loser of this game might look back on one play that made the difference between winning and losing. For BC, there were a half dozen or more plays that fit into this category. Three plays in particular stand out, however. The first two are obvious: the interception on the first play of the game which essentially meant that BC was starting the game down 7-0 and the second interception which stymied a BC drive and gave FSU an easy touchdown. Those two plays alone cost the Eagles between 14 and 21 points. The other play that comes to mind is the 12 yard loss on the handoff to Will Blackmon midway though the third quarter. Callender had just run for seven yards to give the Eagles a 2nd and 3 near midfield. The BC offense had been punishing the FSU defensive line. Had the Eagles continued to pound away, they may have been able to finish them off. The play selection was curious at best. I'm in favor of plays like that when things are not going well, but when you are ahead and have the opponent on the ropes, there is no need for that type of trickery, especially against a team with a huge speed advantage. The play seemed to change the momentum of the entire game. Prior to that play, BC had rushed 34 times for 135 yards (about 4.0 yards per carry). Following the loss by Blackmon, BC totalled 13 carries for 23 just yards (less than two yards per rush).
I also question the play calling at the end of the game. Given a first and goal on the two-yard-line, down by two scores with all three timeouts in hand and around 2:30 left on the clock, I think most coaches would have passed the ball four consecutive times. Scoring a touchdown was obviously the most important thing but saving the three timeouts and keeping the clock from moving was a close second. By running the ball and not scoring on the first two plays (and burning two timeouts), O'Brien took away his option to kickoff deep and play defense. Once the two timeouts were gone, the onside kick was the only option. Of course, they didn't accomplish the most important part - scoring the touchdown.
BC (2-1) lost to a top ten team and dropped nine places in the national polls. Notre Dame (2-1) lost to an unranked team and dropped only six spots. Sadly, I am not a bit surprised. The Irish can probably lose their next game and still be in the top 25. The good news is that the bowl system has changed. In the old days, they would be four wins away from playing in the Fiesta Bowl.
Speaking of college football prejudice, the ESPN Gameday crew's postgame analysis gave the impression that BC put forth a great effort but just isn't on par with FSU at this point. I know that Fowler, Corso and Herbstreit were in the stadium, but apparently they didn't watch the game. BC bullied the Seminoles for most of the game. Any objective person watching on Saturday would say that BC was the better team, but that Florida State had the better coaching. The media is so deep in the pockets of the 10-15 most popular schools you would need a crane to get them out.
---
September 11, 2005
ESPN's College Gameday will broadcast from the Boston College campus next Saturday. For more information, please click on the following link - ESPN Gameday at BC.
Here is a rundown of Sunday's newspaper articles:
---
September 10, 2005
The BC defense looked absolutely horrible in the first drive of Saturday's game against Army. There were penalties, missed tackles and very little resistance in a 12 play, 80 yard Army TD drive. After that, however, the defense was pretty solid. Army amassed only 190 yards of offense the rest of the way and did not score again. Army's Carlton Jones, who rushed for 6.1 yards per carry a year ago, averaged just 2.6 yards per rush on Saturday. QB Zac Dahman was 4 for 4 for 43 yards on the first drive, but just 13 for 28 for 111 yards and 2 INTs after. Al Washington, Ray Henderson and Brian Toal combined for 14 tackles. On the down side, Mathias Kiwanuka did not play up to his All American candidate level for the second week in a row. The Eagles are going to need the Continental Tire Bowl Kiwi next week.
Offensively, Quinton Porter was sharp once again. In two games, he's 42 for 55 (76%) for 438 yards, 4 TDs and 0 INTs. The offensive line continued to open up huge holes for the running backs. My concern is that the running backs are not getting many yards after contact. Whitworth and Callender combined for 23 carries and 96 yards (4.2 per carry). Against FSU, 4.2 ypc will be acceptable. Against Army, it's pretty disappointing. Will Blackmon didn't get the ball very often, but he made those touches count. His one reception yielded a highlight film 41-yard touchdown. He also rushed twice for 31 yards. BC will need to get him the ball more often next week. Jason Lilly (4 catches for 71 yards) and Tony Gonzalez (3 for 75 and a TD) made big plays as well.
BC will go into next week's game having scored 44 consecutive points. Florida State has scored 59 consecutive points. They beat The Citadel, 62-10, on Saturday in Tallahassee. FSU's offense, which sputtered against Miami, put up 629 yards of offense compared to 91 for The Citadel. The numbers are ridiculous but they should be. I think I could throw for 300 yards against The Citadel. The amazing thing is that The Citadel actually led 10-3 with under two minutes left in the first half. The Noles scored 59 points in 21 minutes of football. This game made Wisconsin's 65-0 win over Temple seem competitive.
BC entered this week ranked #19 in the ESPN poll and #18 in the AP. #15 Arizona State lost and #18/#16 Oklahoma was unimpressive again so the Eagles could move up a couple of slots. However, mark my words, Notre Dame will leapfrog BC in the polls this week. It won't matter to the voters that Notre Dame's win came about because of Heisman candidate Mike Hart's first half injury, a fluke touchdown, three Wolverine chokes inside the red zone (twice inside the 5 yard line), and the failure of the referees to call a touchdown on a Michigan quarterback sneak and an obvious pass interference on the final drive. The Irish were also balied out twice by instant replay (replay correctly reversed two calls that went against Notre Dame).
Speaking of replay, it is a good thing we have it. The officiating so far this year has been terrible. In the Notre Dame game, how could the referee not realize that Brady Quinn was down prior to losing the ball? The guy in the top row of the endzone seats probably knew that he was down. The same thing happened in the Ohio State game. They correctly reversed the calls, but how could they have missed them the first time around?
It was a rough day for the perpetually-overrated Big Ten. Michigan (#3), Ohio State (#4) and Iowa (#8) all lost on Saturday. Seven ACC teams were in the Top 25 coming into this week. It will be interesting to see the rankings this week.
---
September 3, 2005

I had four main concerns going into the BYU game: (1) Would Quinton Porter be rusty? (2) Would Will Blackmon have difficulty adjusting to the wide receiver position? (3) Would the altitude and dry air of Provo have a severely negative impact on BC, especially the injury-plagued defensive line? (4) Would BYU star receiver Todd Watkins get past the defensive backs for big plays? I think the answer to all four questions are a resounding NO. The Eagles played well in all facets of the game. They made a few mistakes, but always rose to the occasion to make sure those mistakes didn't hurt them.
Quinton Porter was very sharp for a guy who hasn't played in a regular season game in nearly two years. He completed 77% of his passes and threw no interceptions. In fact, I don't recall anything that was even close to an INT. The only really bad pass was an overthrow of a wide open Larry Lester in the second half. He also had a crucial 12 yard scramble for a first down.
How could any BC fan not be excited about Will Blackmon's performance at wide receiver? Blackmon's 8 reception, 100 yard effort was one of the best by a BC receiver in the Tom O'Brien era. Most impressive was Blackmon's ability to get yards after the catch. Most of his 100 yards occurred after the reception. The best of the lot may have been one catch that looked like a guaranteed no gain play that Blackmon turned into a five yard gain and a first down. Ten different players caught Quinton Porter passes on Saturday. Jason Lilly hauled in four for 57 yards. Needless to say, Chris Miller is a nice weapon near the endzone.
I was a bit frustrated that BC did not run more early in the game. They seemed to be having success from the beginning but Whitworth and Callender rushed only eight times (for 41 yards) in the first half. They ran more in the second half and by the end of the game, BC was dominating the line of scrimmage. Whitworth and Callender combined for 24 rushes and 139 yards (5.8 per carry).
The defense wasn't spectacular but they did the job when they needed to. BYU kept driving into BC territory and each time, the Eagles shut them down. A few self-destructive penalties by the Cougars certainly helped BC as well. The defense bailed out the offense and special teams after both the Callender fumble and the blocked punt. Kiwanuka was not dominant but twice batted down John Beck passes. Beck completed 41 passes (out of 60) for 328 yards but the secondary did not allow too many big plays. All American candidate Todd Watkins caught only two passes for 18 yards. BYU had only 18 yards rushing. The defense needs to tackle better on passing plays, but all things considered, it was a good effort for the opener.
The special teams blundered once when they allowed a blocked punt and once when they roughed the punter, but all in all played well. BYU averaged a meager 13.7 yards on kickoff returns. Johnny Ayers averaged 43.5 per punt and Ryan Ohliger connected on both field goal attempts. Brian Toal's blocked field goal halted some BYU momentum heading into halftime and gave the Eagles a 10-0 lead (it may have been 7-3 had he not blocked the kick).
The biggest play of the game may have been Ryan Glasper's sack of John Beck late in the third quarter. BYU was inside the BC 25 driving for the tying score. Glasper's sack forced the punt. The Eagles came down and scored and never looked back.
I felt a terrible sense of Big East deja vu early in the game when the referees botched an instant replay review that should have given BC the ball following a fumble. Not long before that, the refs on the field needed instant replay to reverse an obvious incompletion that was initially ruled a BYU interception. They also may have helped BC when they gave a bad spot to BYU on a scramble by Beck.
Nothing - I mean nothing - was more surprising that the total, mindboggling incompetence of play by play announcer Paul Page. I am not kidding when I say that this was the worst play by play I have ever heard. Where did ABC find this guy? Did he win a raffle where the winner gets to announce a college football game? Page's color man Ray Bentley was mediocre at best, but compared to Page, he came off as brilliant. Here is a summary:
Page called the BYU back "Whitworth" and a BYU defender "Jason Lilly" among other player mistakes.
When BC scored their first touchdown, he didn't really announce that BC had scored. About five seconds after Miller crossed the goal line he mentioned the score as if it was nothing more than a three yard run in the middle of the field. It was as if he was doing something else while BC was scoring.
Page announced that Quinton Porter was from Portland, Maine (which is true) then added that Portland is "way up there in Maine."
He referred to BC as just "Boston" (no "College") twice.
He repeatedly failed to mention how many yards were gained, whether the play resulted in a first down, etc.
Page called DeJuan Tribble "Dewayne" on multiple occasions.
Bentley announced that the BC punter Ayers had blocked the BYU punt (it was Toal).
Another thing that bothered me was the signage (it looked like a small fence of mini billboards) that was about one yard out of bounds on parts of the sideline. Do the folks at BYU think this is the arena league? One of the BC defensive backs tripped over it and a few other players nearly did. Some player is going to be severely injured if that signage is not removed.
Here is a breakdown of the BC starters by state:

    Ohio: 6
    New Jersey: 4
    Indiana: 3
    Massachusetts: 2
    New York: 2
    California, Connecticut, Delaware, Florida, 
       Maine, Rhode Island, Virginia: 1 each 

---
September 1, 2005

There were several BC-related articles in Thursday's Boston Globe. Take a look at Mike Vega's BC at a Glance for some quick info on the Eagles. The Globe also provided ACC capsules. Vega talks about BC's optimism in a more lenthy article. Steve Conroy features Tom O'Brien in an article in the Boston Herald. Conroy goes into more depth in his BC Notebook.

Twelve college football experts made their preseason picks. Five of 12 picked BC to win the ACC Atlantic, the other seven chose Florida State. All 12, however, picked the Coastal Division winner (Miami or Virginia Tech) to win the inaugural ACC Championship Game. Here's the LINK. Every expert picked USC to play in the BCS Championship Game (Rose Bowl). The choices for their opponent were: Texas (4 votes), VA Tech (3), Miami (3), Ohio State (1) and Michigan (1).

Here's how I spent eight of my dollars

.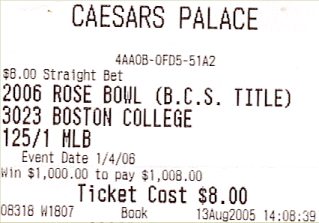 Please click on the following link to read my BC-BYU Matchup (mini preview). Let the games begin!
---
August 23, 2005

The preseason polls and predictions are rolling in. Boston College is ranked 22nd in both the AP and USAToday/ESPN preseason polls. Other predictions of note:
BC is ranked #18 in the CBS Sportsline 119
BC is ranked #14 in the CollegeFootballNews.com NCAA Poll
BC is ranked #37 in the SI.com Poll
BC was picked 2nd in the ACC Atlantic by Dennis Dodd of CBS Sportsline

Here is a look at the ACC by the numbers:
Rankings
Team Record
Returning Starters
'04 NCAA Rank
Team
AP
USA
2004
00-04
Off
Def
K/P
Tot
Off
Def
Boston College
22
22
9-3
41-21
8
7
2
17
47
31
Clemson
NR
NR
6-5
38-23
7
6
2
15
110
26
Duke
NR
NR
2-9
8-49
5
6
0
11
117
100
Florida State
14
12
9-3
47-17
5
5
1
11
61
7
Georgia Tech
NR
NR
7-5
38-25
5
7
2
14
80
12
Maryland
NR
NR
5-6
41-20
4
5
1
10
108
21
Miami
9
8
9-3
55-7
5
8
2
15
66
28
North Carolina
NR
NR
6-6
25-35
6
8
2
16
43
109
NC State
NR
NR
5-6
39-23
5
5
1
11
78
1
Virginia
25
23
8-4
36-27
8
5
1
14
24
18
Virginia Tech
8
7
10-3
47-17
8
6
1
15
65
4
Wake Forest
NR
NR
4-7
24-34
6
6
1
13
76
71

For what it's worth, here are my 2005 ACC predictions.
Atlantic Division
Boston College -- The key game of the year in the Atlantic Division is BC-Florida State on September 17th. If the Eagles beat the Seminoles, they would become the front-runner in the Atlantic. Things would be even better should the Seminoles lose the opener to Miami (yes, we do in fact have to root for Miami when they play teams from the Atlantic). BC returns more starters than any team in the ACC and I expect that they will have a much better running game than they did last season. Most experts rank BC's offensive line among the top ten in the country and Mathias Kiwanuka is on everyone's All America team. The passing game is of great concern, but I think Porter will be fine as long as the running game is clicking.



Florida State -- If the Noles can beat Miami and Boston College early in the season, they should cruise to the division title. However, Florida State lost half of their 2004 starters and they have big issues at quarterback so they will be very vulnerable in these two games. FSU will rely heavily on tailbacks Leon Washington and Lorenzo Booker who combined for 1,838 yards rushing and 11 TDs last year. They added another 250 in receiving yards. Linebacker Ernie Sims and free safety Pat Watkins are Preseason All-ACC selections.



NC State -- NC State's offense suffered last year after losing star QB Philip Rivers to the NFL. The Wolfpack don't have any offensive players that jump out at you but they should improve over last season. The 2004 Wolfpack defense was ranked #1 in the nation, but they lost all four starting defensive backs and two of three linebackers. Their strength will be the defensive line where they return all four starters including Preseason All-ACC ends Mario Williams and Manny Lawson.



Clemson -- There is a lot of hype surrounding Senior QB Charlie Whitehurst which is surprising considering that he completed just 50.7% of his passes with seven TDs and 17 interceptions last year. The fact that Whitehurst is the Preseason All-ACC quarterback shows how weak the conference is at that position. Tommy Bowden's team won five of its final six games last year and could be a sleeper in the ACC if Whitehurst can get it together. Cornerback Tye Hill was third in the nation last year in passes defended and had 49 tackles.



Wake Forest -- Wake has started the season 3-1 in each of the last two seasons, but is only 3-12 after September 25th during that time. The Deacons have a great offensive weapon in Senior running back Chris Barclay who rushed for more than 1,000 yards and caught 21 passes. Wake's best player is their punter, Ryan Plackemeier, who is the ACC's all-time punting leader.



Maryland -- The Terps lost 14 of 24 starters from last season which may not be a bad thing considering that they were 5-6 and finished the season 2-5. It looks like last year's starting QB, Joel Statham, has lost his job to the inexperienced Sam Hollenbach. Preseason All-ACC selection D'Qwell Jackson returns at middle linebacker.
Coastal Division
Virginia Tech -- Unlike Miami, Tech returns their top running back and top two receivers. However, they do not have the luxury of another year with experienced QB Bryan Randall. The Hokies will pin their ACC and National Championship hopes on the shoulders of Marcus Vick, brother of Michael, who will be in the starting role after being suspended last season. The Tech defense should be solid once again, led by DE Darryl Tapp and CB Jimmy Williams. Most important of all is the fact that the Hokies play Miami at home. That game will likely decide the division champ though Virginia will have something to say about that.



Miami -- The Canes lost as many games in 2004 (3) as they did in the prior three years combined. But that does not mean that Miami is a program in decline. The Canes return eight starters on defense. Offensively, they will be a team in transition after losing their quarterback, top running back and top receiver. It will help that they return four of five offensive linemen, none smaller than 6'5". Devin Hester returned four kicks (three punts and a kickoff) for TDs last season.



Virginia -- The Cavaliers have as much talent as anyone in the ACC but they may be a year away from competing for a division title. Virginia lost seven players to the NFL draft and will be replacing them with a very young team, especially on defense. Virginia's projected starting defense includes six sophomores and four juniors. Three sophs will likely start on defense. Inside linebacker Ahmad Brooks and kicker Connor Hughes are Preseason All-ACC selections.



Georgia Tech -- The Ramblin' Wreck might be considered a challenger for the title if they were in the Atlantic Division. As it stands, they have an uphill climb as they play Miami, VA Tech and Virginia all on the road. They start the season at Auburn and end the season hosting Georgia. Georgia Tech has the best returning wide receiver in the league in Sophomore Calvin Johnson who hauled in 48 passes for 837 yards and seven TDs and was named ACC Rookie of the Year. Reggie Ball (16 TD, 18 INT, 49.7% completion pct) returns at QB. MLB Gerris Wilkinson is coming off a 119 tackle season.



North Carolina -- The Heels, like many ACC teams, have a big question mark at quarterback where Senior Matt Baker will take over for a very effective Darian Durant. UNC ranked second in the ACC last season in total offense. Junior tailback Ronnie McGill could have a breakout season. He rushed for 419 yards (5.3 per carry) last year despite missing five games with an ankle injury. The Tar Heels had the lowest ranked defense in the ACC last season, allowing 447 yards per game. Ironically, they return eight starters on defense. It's too bad that Marvin Williams and Sean May aren't available.



Duke -- When does basketball season start? Let's put it this way, Duke has won fewer games in this decade than Virginia Tech, Miami, Florida State and BC won last season alone. If there is a player to watch, it is kick returner Chris Davis who was 14th in the nation last season averaging 25.8 yards per kickoff return.
ACC Championship Game
Virginia Tech over Boston College

There are several ACC and/or BC previews now available online. Here are a few of them:

From the superiority complex pile, the webmaster at NDNation.com has listed "Fredo" instead of Boston College on Notre Dame's 2007 schedule [LINK - Lower Left]. For those who don't know, Fredo was the dimwitted, weak, clearly inferior brother of Sonny and Michael in The Godfather (which is one of the 20 best movies and 20 best books of all time, by the way). Now that BC has beaten Notre Dame five times in six years, I think it is time that Notre Dame accepts that they are now playing the role of Fredo.

Here are a few more articles and links of interest:
Pat Forde's top sleeper candidates (ESPN) -- LINK
Forde's "What's Hot, What's Not" (several mentions of BC) -- LINK
ACC Tiebreaker -- LINK
---
August 15, 2005

The Boston College Eagles will kickoff their inaugural season in the Atlantic Coast Conference on September 3rd in Provo, Utah. The game between the Eagles and BYU Cougars will get underway at about 3:30 pm Eastern Time and will be televised on ABC. BC's home opener will be played on September 10th against Army. The first ACC game in Boston College history will played on September 17th when the Florida State Seminoles visit Alumni Stadium. The game will be televised on ABC at 3:30 pm or on ESPN starting at 7:45 pm. BC-Florida State and Clemson-Miami will each take one of those two time slots.

In case you aren't familiar with the new ACC football alignment and schedule, here's the info:
ACC football will be split into two divisions of six teams each. The Atlantic Division will include BC, Florida State, Clemson, Wake Forest, Maryland and NC State. The Coastal Division will be home to Miami, Virginia Tech, North Carolina, Duke, Virginia and Georgia Tech.



ACC teams will play eight conference games each year. Each team will play every division rival once (a total of five games) plus a designated rival in the other division (BC's rival is Virginia Tech). That leaves two additional rotating games against teams from the other division. For example, BC plays Virginia and North Carolina from the Coastal Division this year. Next year, they will play Miami and Duke. This means that BC will play Miami twice every five years - once at home and once on the road.



The champions of the Atlantic and Coastal divisions will play the first ever ACC Championship game on December 3rd in Jacksonville. I have not seen the division tiebreaking procedures. I will post that info as soon as I have it.




Boston College was picked to finish second in the Atlantic Division by members of the Atlantic Coast Sports Media Association. Florida State was picked to win the Atlantic and Virginia Tech was their choice to win the Coastal. BC received 24 of 91 first place votes. BC cracked the top 25 in the first USAToday poll. The Eagles are #22 - [LINK]. ACC foes Virginia Tech, Miami, Florida State and Virginia also cracked the top 25.

Boston College senior defensive end Mathias Kiwanuka was named ACC Preseason Player of the Year by the ACC news media. Kiwi is the only Eagle on the preseason All-ACC team. Virginia Tech leads the ACC with four players on the Preseason All-ACC team. Wake Forest, Miami, Florida State, Virginia and NC State each have three.
Kiwanuka and center Pat Ross were elected 2005 captains.

Instant Replay will play a role in the ACC and in many of the major conferences this season. Please click HERE to read an interview with ACC commish John Swofford and others regarding instant replay (and a couple of other items).
Apparently the world of college sports is not immune to political correctness run amok. Last week, the NCAA announced a ban of American Indian mascots during postseason tournaments. The schools with American Indian nicknames deemed "hostile and abusive" will be allowed to participate in postseason tournaments, but will not be allowed to use their team nickname in the postseason. The NCAA also plans to ban schools using Indian nicknames from hosting postseason tournaments. Florida State's situation highlights the absurdity of the NCAA's decision because the Seminole Tribe of Florida supports the school's use of the nickname and tribal images. Some of the names are understandably offensive (one team is called the Savages and another is called the Redmen), but polls show that very few Native Americans are offended by school nicknames related to actual tribes (the Illini, the Utes and the Sioux for example). This is yet another example of a few lunatics using the threat of litigation to get their way. In fact, the psychos at PETA (People for the Ethical Treatment of Animals) are already attempting to convince the NCAA to place a similar ban on animal nicknames they feel are "hostile and abusive." I'm a little concerned that the NCAA will eventually deem the Eagle a "hostile" mascot. I'd hate to have to go through life as the Boston College Maroon.
I'm quite sure that if American Indian nicknames had never been used in college sports, the same people who are now claiming to be offended by Indian nicknames would instead be offended because there weren't any Indian nicknames. They would be complaining that the NCAA does not have the proper ethnic diversity and would demand that a team be named after a tribe like the Seminoles, Illini or Sioux.
Good news on the tailgating front. Beginning this fall, Boston College will be allowed to open its campus parking lots 2 1/2 hours prior to kickoff on game day. Anyone who tailgates at BC knows that extra 30 minutes will make a big difference (it would make even more sense to open three hours or more before kickoff but this is better than nothing). For more information on tailgating, parking, tickets, etc. please visit BCEagles.com or call the BC ticket office at 617-552-GOBC.
It appears that BC will also make a serious attempt to get people to their seats by kickoff (I've heard this before). The sea of empty seats at kickoff that has been so typical at BC home games is a disgrace. The extra 30 minutes of tailgating time will certainly help.
Tom Henault attended this year's BC Football Spring Game. Click on the link to read his Spring Game Report.
Signing Day turned out to be a bit of a disappointment for BC fans as blue-chipper Brian Cushing, a linebacker from New Jersey, chose USC over BC and Miami (yes, at least he isn't going to Miami). Still, the Eagles landed several outstanding players including cornerback Andre Jones and offensive tackle Pat Sheil. To take a quick look at all of the future Eagles please visit Rivals.com.