2011 Boston College Football Notes
Sunday, January 15, 2012 (Final notes for the 2011 season)
Boston College missed the bowl season but that may have been a good thing this year. The ACC was a putrid 2-6 in bowl games. That ACC Atlantic was 2-2 but one of those losses was a 70-33 loss by Clemson against West Virginia in the Orange Bowl. All things considered, this was a highly entertaining bowl season. In eight of the 35 games, both teams scored at least 30 points. Baylor racked up 777 yards of offense in 67-56 Alamo Bowl victory over Washington. Washington scored 56 points and didn't cover the spread. Wisconsin and Stanford scored 38 points and lost BCS games. The BCS "Championship" was the yawner we thought it would be with Alabama gaining the season split with LSU. Alabama is now the BCS Champion for whatever that is worth. I'd say the Alabama-LSU rematch is probably the low point for the BCS. Having the BCS, and not a playoff system, is always unfortunate but that is particularly true this season. There would have been some great tournament matchups. I would love to see Oregon and Oklahoma State, who won BCS games, face each other in a playoff game.
As I'm sure all of you know, Luke Kuechly is leaving Boston College to enter the NFL Draft. I'm really looking forward to seeing him play in the NFL. Right now, he's projected to be a mid-first round pick. New NFL Draft. has Luke going #14 to the Cowboys. The Bleacher Report has him going to the Eagles (the Philadelphia Eagles, that is) at #15. Walter Football thinks he will go at #12 to the Cardinals. Fox Sports thinks he will drop to the #21 spot and play for his hometown Cincinnati Bengals. A lot can change between now and draft day, but Kuechly should be on the first round wish list of many NFL teams. Good luck to Luke and the other BC NFL hopefuls.
By my count, 13 former Boston College players were on rosters of NFL playoff teams. Four of them play for the New York Giants. There are currently 20 ex-BCers in the NFL, which is down a bit from a couple of years ago. Here's the list
I love the new B.J. Raji State Farm commercial. Unfortunately, State Farm doesn't protect you against Hail Mary touchdowns. I like the Raji commercial a lot better than the Sportscenter ad with Matt Ryan and the Superbowl ad with Matt Hasselbeck. Then there are the cringeworthy ads from a young Doug Flutie for English Leather and Remington Razors. This Flutie Nissan/Heisman commercial wasn't a whole lot better.
I know a lot of you are eager to find out the 2012 football schedule (though maybe not as eager as in past years). There is no fixed date for the schedule release but it's usually late January/early February. We do know that BC will play Clemson, Maryland, Virginia Tech and Miami at home in the ACC. The road conference games will be Florida State, NC State, Wake Forest and Georgia Tech. The Eagles are scheduled to host Army (10/6), Notre Dame (11/10) and Maine (??) with a visit to Northwestern (9/15). Those dates can change though I wouldn't expect them to. As always, I will post the schedule when it's released so please don't email asking me about it.
Thanks to everyone who voted in the BCEaglesFootball.com MVP poll and/or participated in the coaching staff approval ratings. It will be no surprise to anyone that Luke Kuechly won with 90% of the vote. This was the seventh year that I've done this poll and no had received more than 67% in the previous six years. Kuechly joins Matt Ryan as a two time MVP. I'm sad that he won't be around to go for three.
As for the coaching staff. Coach Spaziani's approval rating has dropped from 61% a year ago to 22% this season. Apparently, that will be enough for him to keep his job. Defensive Coordinator Bill McGovern finished the year with a 52% approval rating, down from a very impressive 90% in 2010. Last season, Offensive Coordinator Gary Tranquill posted a 17% approval rating. This year's offensive coaching staff (I grouped them because of the in-season changes) received a 9% approval rating. Doug Martin became Boston College's fourth OC in one calendar year last month. It can only get better, right?
Well, folks. It was a miserable season. I appreciate those of you who "gutted it out" and continued to follow the Eagles and this website. Here's the good news ... BC has a lot of young players and they gained some much-needed experience this past season. They improved late in the season, particularly on defense, and saved their best for last. As bad as things went, they were only a couple of plays from going back to bowl game. Florida State is absolutely loaded with talent but I don't see anyone else in the Atlantic Division that is head and shoulders ahead of BC in the talent department. Virginia made a big turnaround this year. Maybe BC will be that team in the 2012. 230 days (probably) until the 2012 opener.
---
Sunday, November 27, 2011
There's no way around it. This has been a long and disappointing season. However, I was pleased that the Eagles didn't "pack it in" at midseason. Clemson destroyed BC on October 8th to push the Eagles to 1-5. Finishing 1-11 was not out of the question at that point. The week after the bye, BC played an excellent first half in Blacksburg before being blown out in the second half. Since then, they have won three of five games, including two on the road. They nearly won at Notre Dame. The offense played well on the road against Maryland and Miami and the defense improved in the second half of the season despite all of the injuries. It's unfortunate that the Eagles are not going to a bowl game. I'd love to see if they could build on Friday's success.
The two big questions now are: (1) Will Frank Spaziani (and other coaches) be fired and (2) Will Luke Kuechly return to BC for this senior season. I'd be very surprised if Spaziani is retained though he certainly helped his cause with the 3-2 finish. However, the team won five of six to end last season and it certainly didn't carry over into this season. Whether or not Spaziani is fired, there will be a shake up in the coaching staff. Bill McGovern's defense played fairly well in the second half of the season so I expect that he will be back. The same can't be said for the offensive coaching staff. I don't want to speculate about Kuechly's status. He appears to be ready for pro football and he'd probably be a first round pick. I looked at a few NFL mock drafts and they all have him being chosen in the second half of the first round. Walter Football has Kuechly going 19th. Bleacher Report - 17th. DraftSite.com - 27th. CBS Sports - 20th and 26th.
It was great to see BC end the seven game (and 27 year) losing streak in Miami. After losing 15 in a row to the Hurricanes between 1985 and 2006, the Eagles have won the last two meetings. The erosion of the Miami football program is one of the big stories in college football over the past several years. Miami lost just eight games in eight years between 1985 and 1992. Their success rate dropped a little between 1993 and 1999 but they still won nine games or more in six of those seven years. They were 46-4 between 2001 and 2004 and put up 9-3 records in 2005 and 2006. Add it all up: Miami won nine games or more in 21 of 22 seasons (average of less than two losses per season). Since 2006, however, the Canes are just 41-35 and things aren't looking up as the NCAA investigates a seemingly endless string of alleged infractions. I have mixed feelings. I hate seeing one of the ACC's top programs falling so rapidly but the Miami program has been deeply corrupt for three decades and something needs to be done immediately. They should be given one more chance to clean up their act. The so-called "death penalty" should be reserved only for extreme situations. Miami is approaching that point.
LSU is one win away from securing their spot in the BCS Championship. Even if LSU loses to Georgia, they still might remain in the top two in the BCS and play for the title. Alabama, Oklahoma State, Stanford and Virginia Tech each have one loss and could make a case for being #2. Unfortunately, it looks an Alabama-LSU rematch is likely. If they play again, maybe we'll actually see a touchdown.
I'm going to keep the BC coaching staff approval ratings and the MVP ballot (not much drama there) up for a while. Please vote if you haven't already done so. I'll post my annual college football playoff proposal next week.
---
Saturday, November 19, 2011
Unlike their earlier games against Top 25 teams, the Eagles had a very good chance to win this afternoon against Notre Dame. Two critical dropped interceptions - one that would have prevented a Notre Dame field goal and another that would have gone the other way for a BC touchdown - were the biggest plays of the game. But as usual there was plenty of blame to go around. Donnie Fletcher committed a personal foul on the very first play of the game, jump starting Notre Dame's only TD drive. Chase Rettig (or Riddig if you are NBC's Tom Hammond) overthrew two open receivers who would have taken the ball into the red zone (in the second case, maybe the end zone). There were a couple of costly illegal procedure calls. Coach Spaziani opted to run out the clock at the end of the first half, despite having about 1:15 and two timeouts. This decision came after Spiffy Evans decided to return a kickoff that was going out of bounds. Even Spaziani would have gone for points had BC started from the 40. Most teams with records like BC's (3-8) end up there because they turn the ball over in the red zone, throw pick-sixes, give up huge plays on defense, get punts blocked and give up kickoff returns for touchdowns. Those things aren't really what has gotten BC into trouble this season. The Eagles lose in a "death by 1,000 cuts" fashion. They make small mistake after small mistake and those miscues add up to a lot of losses. BC has not played well this year, but they are three or four mistakes from being 6-5.
The best BC performance of the day came from punter Ryan Quigley. He kept BC in the game by repeatedly pinning Notre Dame inside their 10 yard line. Sadly, BC couldn't do anything with the great field position they had most of the day. Rettig made a handful of good throws but once again his accuracy was a problem. In his defense, he was rarely able to make a throw without a Notre Dame pass rusher in his face. It was not a good day for the BC offensive line.
Much like last week, the BC defense got off to a bad start then played very well through the third quarter. Notre Dame had 126 yards on their first two drives today, but only 166 yards on their next seven drives. The defense has certainly been playing better since that ugly second half at Virginia Tech.
As you know, I am not shy about ripping referees but I try to cut them a little bit of slack because, like the players and coaches, they are entitled to make mistakes. It's not an easy job. You're watching a fast game and you usually have a split second to make a decision. That is not the case with replay officials. Their job is pretty easy. They have HD video and they can watch replays in slow motion. What happened is today's game was a disgrace. On BC's first set of downs, Rettig threw a first down pass to Swigert that the referee on the field called a completion. There was no visual evidence showing that the ball hit the ground (though it was possible). The replay refs are only supposed to reverse a call if there is indisputable evidence that the call on the field was wrong, but in this case they did reverse the call, taking away a first down and forcing BC to punt. Later in the game, a similar low pass from Notre Dame QB Tommy Rees to his receiver was again called a completion by the referee on the field. After a very short period of time, ruling on the field of a Notre Dame completion was confirmed. In this case, the ball did appear to hit the ground. Was there indisputable evidence? Maybe not. But one thing is for sure, it was much more likely that the Notre Dame pass hit the ground than the BC pass earlier in the game. It would have been reasonable for the replay booth to confirm both catches. You could make an argument for overturning only the Notre Dame catch. The fact that it was only the BC completion that was overturned tells me that the replay officials were interested in helping Notre Dame. I don't know who was in that booth. Maybe they have some connection to Notre Dame or malice toward BC. Maybe it's just the part of the NCAA's usual policy of helping Notre Dame whenever possible. Whatever the case, it stinks.
Congratulations to the University of Virginia. The Cavaliers defeated Florida State tonight and will host Virginia Tech next Saturday with the winner going to the ACC Championship Game. It's been a great bounceback year for UVa. Last season they were 4-8 and 1-7 in the ACC. Virginia can become the third Coastal Division team and the seventh ACC team to make the conference championship game. Virginia Tech has been four times. Clemson has joined join BC, Georgia Tech and Florida State as two-time division champions.
There's been a big shakeup in the BCS and now we are guaranteed to have some controversy. Oklahoma State's shocking upset loss to Iowa State takes away the Cowboys' clear path to the championship game. They now join Alabama, Arkansas, Virginia Tech and Stanford (assuming they hold on against Cal) in the one loss category. Oklahoma, Oregon and Clemson are no longer in contention after suffering a second loss on Saturday. The SEC could be ranked 1-2-3 when this week's BCS comes out. Arkansas plays at LSU on Friday. If Arkansas wins, then LSU, Arkansas and Alabama would all be 11-1 overall and 1-1 against each other. That would beg the questions: who is #1 and would the other two SEC teams be #2 and #3 or would Virginia Tech (assuming a win at Virginia) sneak into the top three?
---
Saturday, November 12, 2011
Unlike the Maryland victory where both the offense and defense contributed, today's game was all about the defense. The BC offense tallied just 124 total yards in the final 58 minutes of the game but the defense held the Wolfpack to about four yards per play. Clearly, this was the best defensive effort of the season (UMass doesn't count). In their last 20 games, BC is 8-0 when holding opponents to under 20 points and 0-12 when the opponents scores 20 or more. That tells you everything you need to know about the BC offense.
BC now has a chance to finish the regular season at 5-7. Obviously, that's still a lousy record but it looks a heck of a lot better than 3-9. Beating Tom O'Brien, Notre Dame and Miami in succession would keep the season from being a total loss. Neither Notre Dame nor Miami is very good this year. Miami is 5-5 and Notre Dame should be 5-5. However, they will both be playing at home and both have defenses mediocre enough to keep BC under that magic 20 point mark. Both teams can put up points in a hurry and BC defense, though improving, might have a hard time keeping up. Hopefully, the BC defense can force some turnovers early in those games and generate some momentum. BC has shown in their two ACC victories that they are a much better team with the lead.
Clemson wrapped up the ACC Atlantic this weekend. Believe it or not, Virginia controls their own destiny (as does Virginia Tech) in the Coastal Division. If the Cavaliers beat Florida State next weekend, their game with the Hokies (at home) the following week would decide the division. VA Tech can wrap up the division with a win over North Carolina and a Virginia loss.
The BCS Championship picture either became a lot clearer or muddier this weekend, depending on how you look at it. Boise State's loss to TCU takes them right out of the BCS title picture though they remain a contender for a BCS bowl game. Stanford was blown out at home by Oregon, likely taking them out of BCS Championship contention. Things are clearer because that leaves LSU, Oklahoma State and Houston as the only undefeated teams. Houston certainly isn't going to move up to #2 so if LSU and Oklahoma State remain undefeated, they will play each other for the championship. On the other hand, the situation is muddier because if one or both of those teams lose, we'll have more BCS controversy. If LSU loses once and Alabama finishes 11-1 would there be voters who pick Alabama ahead of LSU? There shouldn't be, but you never know. Would the voters allow for an LSU-Alabama rematch? I would hate to see that matchup again. Potentially, you could have LSU, Oklahoma State, Alabama, Oklahoma, Oregon, Arkansas and either Clemson or Virginia Tech all finishing with one loss and a reasonable case to be in the Top 2. Stanford would not have a reasonable case after losing by 23 at home. Neither a one loss Boise State nor an undefeated Houston could make the case. Had Penn State won today, they could have finished 12-1 and made a football case for the BCS Championship but I can't imagine the voters would have allowed it to happen (if I were a voter, I'd remove them from my top 25 for the rest of the year). I am crossing my fingers that somehow we get an Oklahoma State-Oregon championship game. I hate to be the guy setting the over/under for that one.
Lastly, the 2011 Boston College MVP poll has been added to the front page. There won't be a lot of suspense but I'll be curious to see the margin of victory. Sadly, there aren't many legitimate candidates this year.
---
Thursday, November 3, 2011
Yogi Berra is credited with coining the phrase "It's deja vu all over again." That's what tonight's game felt like. After a week of success, the Eagles were back to their mighty struggles combined with the usual heavy dose of bad luck. It didn't take long for the game to slip away. On their first set of downs, BC failed to convert the first down by about a half a yard. After a punt, Kuechly forced a fumble, but the Noles recovered. After an FSU punt, Rolandan Finch fumbled and this time the defense did recover the ball - at the BC two yard line. Florida State quickly turned that turnover into a touchdown and never looked back.
BC had several chances to make a big play and possibly turn things around but they could never catch a break and/or execute. Ahead 14-0 in the second quarter, FSU fumbled inside the BC red zone. Luke Kuechly recovered the fumble but he was maybe an inch - literally - out of bounds at the time. Later, down 28-7 early in the third, Rettig had Donte Elliott open for a first down and possibly a big play into FSU territory. Rettig couldn't complete the pass and the drive ended. Sean Duggan later dropped an interception that could have possibly gone the other way for a BC touchdown to cut the lead to 14. BC probably wasn't going to win this game, but if a couple of these plays went their way, they could have at least been competitve.
The Spaziani era is almost certainly coming to an end this season. You could cite the team's overall play, lack of development, lack of execution or play calling. I think what bothers me most is the attitude. There were BC players trash talking down by more than 20 points. I don't like trash talking no matter what the score is, but doing it down 20 points at home is absurd. Another BC player celebrated like he just scored the winning touchdown after making a tackle on an eight yard Florida State run. This kind of stuff makes BC look pathetic and reflects poorly on the coaching staff. One of the coaches needs to scream "That was an eight yard gain, why are you celebrating?" There are a lot of young players. They are going to do things like this. It's up to the coaching staff to tell them not to.
Josh Bordner gave the Eagles a little bit of a spark tonight. It will be interesting to see how the QB situation unfolds the rest of this year. I'm resigned to the fact that Rettig is not the answer. I think the effort and toughness are there but he is simply too inaccurate throwing the football. He has 15+ games under his belt now and things seem to be getting worse. I don't know if Bordner is the answer but he should see some playing time during the final three games. I imagine that Christian Suntrup, part of the 2011 recruiting class, will have a chance to compete for QB job next year.
BC is out of the bowl picture but the next three games are still meaningful. BC can beat Tom O'Brien, Notre Dame and end the long losing streak in Miami.
---
Saturday, October 29, 2011
I forgot how it feels to win. BC defeated UMass earlier this season but today's effort was the first "real" victory of the season. I liked the way the Eagles ran the ball and played defense. The BC offensive line pounded the Terp defense all day. They averaged six yards per carry. Despite the fumbles, Rolandan Finch had a spectacular game. He's performed well during the recent stretch of road games and has established himself as the #1 running back with Harris out for the season. Andre Williams didn't have a bad game, but Finch has clearly been the better of the two backs of late. The offense line was outstanding today. This was vintage BC football. In the past four games, BC has averaged 5.4 yards per carry (excluding Rettig's sacks/rushes).
The defense repeatedly came up with big plays when they needed them. The most important play was Sean Sylvia's interception early in the game which led to BC's second touchdown (and a 14-3 lead). This was only the second time all season (excluding UMass) that BC had enjoyed a double-digit lead. Today, unlike the Duke game, they played well with the lead. Maryland scored a couple of TDs during garbage time but when it mattered, the defense was there. Of course, it was no surprise that Luke Kuechly was all over the place, including special teams. True freshman Sean Duggan also played an excellent game in place of Kevin Pierre-Louis. It must be noted that Maryland dropped a lot of passes but most of those plays weren't going to result in many yards. BC's pursuit of the football and tackling was solid for the first three quarters.
On the down side, the passing game continues to be miserable. Chase Rettig completed just 5 of 12 passes for 32 yards. To be fair, this was not an easy day to throw the football (Maryland QB's completed just 16 of 41 passes) and BC didn't need to throw very often thanks to the unstoppable ground game. However, Rettig missed badly on a few passes that should have been easy completions. This presents problems because the Eagles can't beat Florida State with 32 passing yards and Rolandan Finch may not be as effective on a short week after carrying the ball 39 times. I also must mention that Maryland has a terrible defense (ranked 109th in the country entering today's game). Florida State's defense is 12th.
Never say never - just ask the St. Louis Cardinals - but beating Florida State on Thursday will be a tall order for the Eagles. The Seminoles rank 6th in the country against the run so this will be a great test for the offensive line. Finch probably won't have a big carry total given his workload today so Andre Williams needs to step up. The thought of Rettig going up against the nation's 14th most efficient pass defense (and 4th in the country in sacks) is terrifying. On the other hand, the Seminoles surrendered 35 points on the road to both Clemson and Wake Forest. Clemson beat the Noles with the passing game. Wake Forest used a balanced offensive attack. BC will feature the run but will need to complete some passes down the field. It's unlikely that BC can grind away at the FSU defense like they did today against Maryland. I'd like to see them come out with a very aggressive passing game. That's the last thing you would expect from a team coming off a 372/32 rushing yards/passing yards split the week before. This strategy increases the risk of a blowout loss (potential INTs and strip sacks) but also gives BC the best chance for an upset. At 2-6, there is no reason to play it safe.
FSU ranks 38th in total offense and 12th in total defense, yet they are just 5-3. Their weakness has been turnovers. Only four teams in the FBS have a worse turnover margin. FSU quarterbacks have been intercepted 12 times in eight games this season. If BC wins, it will probably be because they forced turnovers and capitalized on them.
Gaining a bowl bid will still take a small miracle, but at the very least, the Eagles now have something to build on. They will take some confidence into Thursday's game.
---
Sunday, October 23, 2011
Despite hanging around for a half, the Eagles suffered another blowout loss to a Top 25 team. The turning point in the game came late in the first half. BC was ahead 7-3 and had a first down inside Hokie territory. A touchdown to put BC up 14-3 at halftime would have put enormous pressure on Virginia Tech. Instead, BC ended up punting and allowing a late field goal to make it a 7-6 game at the half. Virginia Tech had regained the momentum. They hammered BC in the third quarter.
The second key point in the game was Rettig's interception on BC's second drive of the third quarter. The Eagles had driven 47 yards and had a first down at the Tech 22 yard line. A TD would have put BC back on top. Interceptions are always frustrating but particularly on first down plays in or near the red zone. Rettig has now thrown roughly the same number of passes in 2011 as he did in 2010. Unfortunately, his already low completion percentage is lower than last season (53.4% to 51.3%), his interceptions are up (5 to 9) and he's passed for slightly fewer yards (1,238 to 1,181). Rettig certainly shouldn't shoulder all of the blame. BC has been decimated by injuries and the receivers are not performing the way we all hoped they would. The play calling has often been puzzling. But, it all starts with the QB position and Rettig needs to be better.
The most disturbing thing about this season is not the 1-6 record but the lack of progress. They don't seem to be getting better in any facet of the game. BC ranks 107th nationally in total offense and 99th in total defense. They are 91st in kickoff returns, 109th in punt returns and 113th in sacks. The only major statistical area where they are in the top half is punting (43rd). I guess that makes sense because they do so much of it. If there is an area of improvement, it's the running game which has been decent the past two games. It's unfortunate that it hasn't translated into more success in the passing game.
Next week provides BC with a great opportunity to turn things around. Maryland has lost five of six games since beating Miami to open the season. They have given up a total of 97 points and over 1,000 yards in the past two games. Their defense has been as ugly as their uniforms. They also lost 38-7 to Temple. It's time for a win!
I'm not sure what happened to Clemson. They, along with FSU, have been the great underachievers in the ACC in recent years. That has not been the case through eight games. The Tigers have scored an incredible 115 points in their last two games. They have put 35 or more in seven of eight games. Their defense ranks in the middle of the pack nationally but they held Virginia Tech to just three points on the road. Clemson has a huge game at Georgia Tech next week and, after a bye week, they host Wake Forest in a game that could decide the ACC Atlantic. Virginia Tech continues to be a machine. It looks like they will win the Coastal Division once again.
If you haven't done so already, please vote on the coaching staff approval ratings. The ballots are on the front page.
---
Wednesday, October 12, 2011
I haven't written much in recent weeks, partly because I've been extremely busy and partly because, like most of you I'm sure, I am quite depressed about this football team and its direction. I wasn't expecting a 10 win season in 2011 but I figured the bowl streak would continue and the young Eagles would begin to mature. I thought Chase Rettig would improve his accuracy and convert more in the red zone. I thought the defense would be solid once again. I thought the kicking game would be reliable. None of this has happened. BC has played badly, but they have also been decimated by injuries and transfers. It's been a Murphy's Law kind of season. After 13 years of postseason play, BC could be facing a double-digit loss season.
Can the Eagles turn it around like they did last season? Probably not. The schedule in the second half of the season is much more difficult than it was last year and there are just too many key injuries to overcome. Can they improve and build something for next season? Absolutely. Plenty of freshman and sophomores are going to get a chance to play in the second half. Experience will be gained. Hopefully, we'll find out who can play and who can't. Wake Forest was 3-9 last season and played far worse than BC is playing right now. As of today, Wake is 4-1 and competing for the ACC Atlantic title. I still believe there is a lot of talent on this BC roster but they need something good to happen. Hopefully, they will use the week off to regroup. A win at Virginia Tech on the 22nd is asking a lot but it would be nice to see the Eagles play competitive football and start to push things in the right direction. It's sad to be talking about moral victories but the reality is that a competitive effort in Blacksburg is all that I am asking for right now.
Thanks for voting in my first poll of the season. I asked what you thought about the alternate helmet design. The vote was a lot closer than I expected with 29% saying they love it, 32% saying they hate it and 39% having mixed feelings. Next up: coaching approval ratings. Check the front page for the new polls. This should be interesting.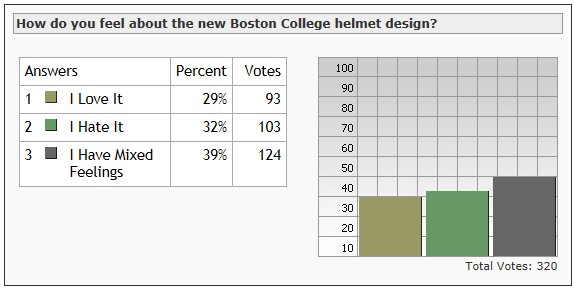 The big news for BC sports these days is off the field. BC AD Gene DeFilippo ruffled some feathers with his comments about the ACC/ESPN relationship and about the University of Connecticut. DeFilippo said this about ESPN:
"We always keep our television partners close to us. You donít get extra money for basketball. Itís 85 percent football money. TV - ESPN - is the one who told us what to do. This was football; it had nothing to do with basketball."
He later apologized for the comments. It bothers me that he apologized. I am glad that someone is being honest about the TV networks running college football and basketball. Tradition no longer matters. It's all about the bucks. That's fine, but I wish the conferences, the universities and the TV people would just admit it's all about money instead of pretending to care about the sport or the fans or the student-athletes. Most of these people would toss their own mothers down a flight of stairs for an extra twenty bucks and we all know it.
DeFilippo also talked about BC's role in helping to keep UConn out of the ACC.
"We didnít want them in. It was a matter of turf. We wanted to be the New England team."
Again, good for him. UConn disgraced itself with a lawsuit against BC in 2003. They have a corrupt basketball program that should have been suspended from the NCAA Tournament last year. BC should use whatever pull it has in the ACC to keep them out. I'm not thrilled with DeFilippo's overall performance of late but I have no problem with his recent comments. I am tired of political correctness in sports (and everywhere else for that matter).
Speaking of conference musical chairs, I caught a glimpse of the Ohio State-Nebraska game the other day. It took me a few seconds to realize that it was a conference game. It just didn't feel right. How can Nebraska not be in the same conference as Oklahoma? Awful. At least the Big 12 appears to have survived.
The Big East is scrambling to find replacements on the football side. They may need to rename themselves the "Big Island of Misfit Toys" Conference. One good thing may come out of it though. There is a possibility that Army, Navy and Air Force will be invited to join the Big East. It would be great to see the academies competing in the same conference.
I just hope the schools and the conferences can make some final decisions so we don't have to through this every year. As I've mentioned before, I also hope this shuffling gets us closer to a playoff system of some kind. Any talk of bowl tradition is laughable. I find it funny that Utah-Nebraska is a possible Pac Ten-Big Ten matchup.
I also can't let the realignment discussion go by without referring to my own notes from June 2003:
"... Whatever the case, there will be plenty of teams shifting conferences over the next several years. The Pac 10 is considering schools like Colorado and BYU, which would have an immediate impact on the Big 12. If Missouri joined the Big 10 and Colorado took a slot in the Pac 10 that would leave the Big 10 with 12 teams and the Big 12 with 10 teams. Try to wrap your mind around that."
It took a little longer than I expected and I never thought Nebraska would leave the Big 12.
---
Thursday, September 29, 2011
Needless to say, Saturday's game is huge for the Eagles. A second consecutive win could give the team some confidence with the brutal part of the schedule fast approaching. Another loss at home has the potential to send this season into a downward spiral. The Eagles bounced back last season and are certainly capable of doing that again, but that rebound needs to start this weekend.
The numbers tell the story. BC ranks 99th in the country in total offense and 92nd in total defense despite playing a relatively weak schedule thus far. On the plus side, Luke Kuechly leads the nation in tackles with 17.3 per game.
Wake Forest is actually a one-point favorite to beat the Eagles on Saturday. Who would have guessed that at the start of the season?
---
Monday, September 19, 2011
Boston College is now 0-3 for the first time in twenty years thanks to another agonizing home loss. The Eagles were a chip shot field goal away from winning their first game of the year and moving to 1-0 in the ACC. In other words, they had a chance to turn things around and gain some confidence and momentum. This was very much a team loss - bad coaching, inconsistent offense, porous defense and a poor kicking game. Chase Rettig passed for 247 yards with no interceptions. He made some great plays. Unfortunately, he continues to struggle with his accuracy (17 of 33). Andre Williams rushed for 56 yards (4.3 per carry) but isn't sufficiently filling the shoes of Montel Harris. The BC defense couldn't stop anything on Saturday. Duke quarterback Sean Renfree picked them apart Tom Brady style. He completed 40 of 52 passes for 359 yards. Duke running back Juwan Thompson rushed for 5.4 yards per carry. Obviously, the kicking game was also a big problem with a missed extra point and the missed field goal at the end of the game.
Above all, I was upset with the coaching. Neither the offense nor the defense adjusted to what Duke was doing. When BC made a big play offensively, it was because Chase Rettig improvised, not because of an effectively called play. The defense didn't make adjustments. Duke was essentially running the same passing play over and over and the Eagles couldn't stop it. The coaching staff also blundered with clock management. Late in the first half, Rettig and Larmond combined for a spectacular 57-yard passing play to the Duke 7 yard line. The BC coaches sprinted down the sideline to call a quick timeout with 1:26 remaining. A smart coach (or the average 12 year old who watches football on a regular basis) would know that letting the clock run was the smart move. I don't have a problem with the timeout, but they should have let the play clock run down to 0:01 before calling it. BC scored on the next play and this blunder left Duke with more time to score a touchdown and change the momentum going into overtime.
The strategy at the end of the game was also disturbing. The Eagles were in prime position for a victory after Andre Williams rumbled 17 yards for a first down to the Duke 14 yard line. Chase Rettig then intentionally spiked (aka. "clocked") the ball to stop the clock with 1:01 remaining. This was a bad move for two reasons. Most importantly, it cost BC a down. It also left more time on the clock for Duke to score if BC had taken the lead. I suspect that Duke would have called a timeout had Rettig not spiked the ball. I don't know if that bad decision came from the coaching staff or if Rettig acted alone. I can forgive the young quarterback for that decision, but not the coaching staff. Williams rushed for 9 yards on the next play then was stuffed on 3rd down. Had Rettig not clocked the ball on first down, BC would have had one more play before being forced to kick the field goal. I also wonder why BC ran left on 3rd down, rather than running to the middle and setting up Freese with a better angle for his kick. He had already missed an extra point so why make the kick more difficult than it needed to be? There is no excuse for missing a 23-yarder but the coaching staff did him no favors. Needless to say, Coach Magnum p.i. is squarely on the hot seat.
I am not a big fan of BC's typically weak non-conference schedule (I say "typically" because it's not weak this season) but I am very happy that UMass is next on the schedule. If BC loses that game, things could really spiral downhill for the program.
On a positive note, the ACC had a decent week as Miami defeated #17 Ohio State and Clemson defeated #21 Auburn. Florida State gave #1 Oklahoma a tough time before losing 23-13. Maryland lost by just six points to #18 West Virginia.
There was big news this week as it was announced that Pittsburgh and Syracuse will be joining the ACC. I am certainly not a fan of any conference expanding beyond 12 teams. As it stands now, there are five teams in the ACC that BC only plays twice (once at home) in a five year period. Adding two more to the conference could mean even fewer games against teams like Miami and Georgia Tech. The ACC may change the number of conference games from eight to nine to offset this. Assuming that only Pitt and Syracuse are added and nobody leaves, my best guess is that Syracuse would be placed in the Coastal division and would become BC's cross-division rival. Pittsburgh would then be added to the Atlantic Division and would be Virginia Tech's inter-division rival. This is just a guess. The ACC might want to do a North-South format or simply just rearrange some teams. It would be really terrible if the ACC expanded to 16 teams. The perfect conference size for both football and basketball is between 10 and 12 teams, yet the SEC and ACC will apparently move to at least 14 and the Pac Ten is considering another expansion. It's absolute chaos right now.
UConn is apparently making a strong effort to get themselves into the ACC. This is interesting considering that UConn tried to sue Boston College for leaving the Big East. Will they sue themselves? I think Connecticut has proven themselves worthy of the "Sports World's Biggest Hypocrite" title.
When the dust settles, it looks like Texas, Texas A&M and Texas Tech will all be in different conferences. Rivals Oklahoma and Nebraska are already separated. A Texas team will be in the Big East. Texas and Oklahoma could wind up in the Pac 12 (which would the become the Pac 14). Will the NCAA continue to defend the bowl games citing "tradition" as the primary reason for keeping the bowls? From a conference perspective, there is no tradition left in college football. The Rose Bowl stopped being meaningful when they couldn't guarantee a meeting between the Big Ten and Pac Ten champions. Rivalries have been diminished with all of the conference movement. They need to decide who is going to be in which conference and guarantee that no one will move again for at least 15 years. Next, they need to set up a playoff system, preferably one that uses the conference championship games for seeding. Bowl games were a nice idea in 1950. It's time to move on.
---
Sunday, September 11, 2011
Boston College is 0-2 for the first time since 1994 and there is clearly reason for concern. Though the Eagles did not play well last week, the loss was largely a product of self-inflicted wounds. They could have easily beaten Northwestern despite all of the mistakes. Yesterday, however, the Eagles were completely dominated by a Conference USA team. Central Florida is very underrated and this was a tough road game. But 30-3? The numbers show just how much the Knights outplayed the Eagles. BC had only 141 yards of total offense despite getting 30 on their first two plays of the game. They converted only 1 of 12 third down plays and had just 7 first downs. CFU held the ball for more than 37 minutes and quarterback Jeff Godfrey completed 80% of his passes. I could go on.
If there is a positive takeaway from the game, it was the way the defense played in the redzone. The defense kept the Knights out of the endzone for three quarters. Unfortunately, CFU's huge time of possession advantage coupled with the Florida heat and humidity got the best of the defense in the fourth quarter. That doesn't mean the defense played well in the first three quarters. They gave up a lot of yards and didn't force any turnovers. BC allowed just 1,076 rushing yards all of last season. They have already given up 462 rushing yards in 2011.
The other silver lining lies in the fact that these two losses were non-conference games. The way the Eagles are playing it's hard to imagine they will compete for an ACC division title but at least they have the opportunity to turn things around given that Duke, UMass and Wake Forest are next on the schedule. BC needs to build confidence, get more snaps for the inexperienced players and get some key injured players back on the field, particularly Montel Harris.
The smaller Florida schools are having a nice season so far. South Florida (Big East) defeated Notre Dame last week. Florida International (Sun Belt) beat Louisville and of course Central Florida (Conference USA) beat BC. Those three schools all won bowl games last season. Florida has seven Football Bowl Subdivision (FBS, formerly Division 1-A) schools. Obviously, you have the Gators, Noles and Hurricanes to go along with the three I just mentioned plus Florida Atlantic out of the Sun Belt. It will be interesting to see where Miami's lost recruits (they will take a recruiting hit one way or another) end up. I'd love to see the smaller Florida schools get a little from that state's deep pool of football talent.
I can say this about the Fighting Irish ... they usually play very exciting games. Last night's ND-Michigan game featured one of the most exciting fourth quarters in college football history. There were three touchdowns, two by Michigan, in the final 1:12. Trailing 31-28, the Wolverines were on their own 20 yard line with 23 seconds left but managed to score the winning touchdown with two seconds remaining. Here are the highlights.
---
Sunday, September 4, 2011
It doesn't appear that there are any major injury concerns for Chase Rettig, who was injured on two different plays in the final drive yesterday. He simply had the wind knocked out of him on the final play. Rettig took the blame for not throwing the ball earlier on the final play (he was right) and also said "our line did a good job" (he was wrong). One of the responsibilities of the starting quarterback is to take the blame whether or not he's at fault. Rettig showed leadership by doing that as Steve Buckley points out in the Boston Herald.
This was BC's first loss in an opener since 2003 (Wake Forest).
Next week's opponent, Central Florida, beat Charleston Southern 62-0 yesterday. They outgained CSU 560 yards to 119.
Good news for Mark Herzlich who made the New York Giants 53-man roster. Congratulations to Mark and Alex Albright who made the cut with the Dallas Cowboys. Unfortunately, Thomas Claiborne and James McCluskey were cut.
A few more stats:
Luke Kuechly and Kevin Pierre-Louis combined for 34 tackles yesterday.
Chase Rettig passed for 160 yards (11/19) in the fourth quarter.
Andre Williams gained 69 yards on his first rush of the game but had 21 carries for only 45 yards after that.
Only 3 of BC's 20 first downs were on the ground.
and links:
---
Saturday, September 3, 2011
Heartbreaking ... Frustrating ... Disappointing ... Concerning. Those are all words I'd use to describe today's 24-17 loss to the Northwestern Wildcats. It was heartbreaking because the Eagles teased us with the late comeback. When they reached the Wildcat 19 yard line with 18 seconds left, it looked like they had an excellent chance to tie the game and take all the momentum into overtime. They likely would have had three shots to complete a TD pass. Those three plays turned into one desperation play with the false start/ten second runoff. It was frustrating because BC didn't need to be in that desperate position. Had they not missed two field goals, they would have had a chance to tie the game with a two-point conversion after the previous touchdown. Nate Freese missed twice today after missing just three times all of last season. It was disappointing because BC was not as sharp as Northwestern and was outplayed at the line of scrimmage. BC had the best run defense in the nation last season but they gave up 227 yards on the ground. The offensive line didn't block well for Williams or protect Rettig. It was concerning because Rettig was injured twice on the final drive of the game. No word yet on the severity. Rettig was hit far too often today. He's not going to make it through the season if the offensive line doesn't protect him better than they did today. I am concerned about a lot of things but since it's only Game 1, Rettig's health is at the top of my list.
There wasn't much good news today but not everything went wrong. Kuechly's interception was certainly the highlight of the day. Rettig struggled early but made some great throws, especially down the stretch. He should have some confidence heading into next week. Momah had a huge game. He had more than half as many yards today as he had all of last season. Could he be on his way to a big season?
It's easy to point to the false start as the reason why BC lost today, but that was only the last of many "shoot themselves in the foot" moments. The failures in the red zone early in the game prevented the Eagles from building a lead and forcing Northwestern to focus more on the pass. BC was first and goal from the five yard line on the first drive and scored only three points. They were first and ten at the Northwestern 12 on the third drive and came away with no points. So ... two first downs inside the opponent's 15 yard line in the first three drives and just three total points. That's inexcusable, even in the first game of the season. As a friend pointed out, Williams getting dragged down at the five yard line on the opening play from scrimmage was reminiscent of Montel Harris at Florida State last season. As it turned out, the flow of this game was very similar to the 2010 FSU game. Had Harris scored the TD on that first play, BC probably would have beaten FSU. Had Williams scored the TD today, BC probably would have won. I'm not being critical of Harris and Williams. I'm just pointing out the fine line between winning and losing and how the first quarter ... or first drive ... or first play can decide the outcome of a game. In recent years, BC has been notorious for losing games because of poor execution in the first quarter.
On the bright side, this was not a conference game. BC is still 0-0 in the ACC. They have another non-conference game before starting the ACC season and their first two conference games are at home against the presumed worst teams in each ACC division, Duke and Wake Forest. BC doesn't have to be at the top of their game to beat those teams though they may need to be better than they were today. The Eagles have a month to get their act together before the schedule gets really difficult. One of the toughest situations a team can face from one season to the next is having major changes on the offensive line. BC is dealing with those growing pains and it certainly showed today. The o-line should improve week to week. There are no preseason games in college football so most teams make an inordinate number of mistakes in the season opener. Northwestern, to their credit, looked like they were in midseason form. I expect a much sharper effort from the Eagles in the coming weeks. As I told nervous Red Sox fans in mid-April, it's too early to hit the panic button.
The ACC was 7-3 in non-conference games this week. BC joined Wake Forest and Duke on the losing side. Miami and Maryland play on Monday.
16th ranked Notre Dame also lost their opener at home, 23-20 to the South Florida Bulls. The Irish are ranked 16th nationally despite the fact that they are coming off an 8-5 season that included losses to Navy and Tulsa. Very few things are certain in college football, but one thing you can count on is Notre Dame being overrated. Someone calculated how overrated/underrated each football program has been since 1989. Notre Dame is only the fourth most overrated program since 1989 but is by far the most overrated since 1994. HERE is that data. Of course, 1994 is the season after THIS.
---
Monday, August 29, 2011
The Boston College Eagles will kickoff the 2011 season on Saturday as they host the Northwestern Wildcats. Like BC, Northwestern was 7-6 last season. BC will be playing without their top offensive player, Montel Harris, who suffered a setback in his recovery from last year's season ending knee injury. Harris required a second arthroscopic procedure on the injured left knee and probably won't return to action before the September 17th game against Duke. Northwestern starting quarterback Dan Persa, who threw for 2,581 yards and 15 TDs last season could also miss the opener because of an achilles injury. Persa missed the final three games of last season after rupturing his achilles tendon. His replacement would likely be sophomore Kain Colter who has only thrown nine passes in his college career.
Northwestern was a mediocre 63rd in the FBS (Football Bowl Subdivision, aka. 1-A) in scoring offense, despite the fact that Persa ranked 9th nationally in passing efficiency. Persa also led the Wildcats with 52 yards rushing per game. Defensively, Northwestern was a lowly 97th (out of 120) in the FBS. They gave up a whopping 163 points (54 per game) over their last three games (Illinois, Wisconsin, Texas Tech). Each of those three opponents amassed more than 550 yards of offense. Illinois and Wisconsin combined for 848 yards of rushing offense alone. After a 5-0 start, Northwestern dropped six of their last eight games. BC is currently a three-point favorite. I'm sure that number will increase if it is announced that Persa won't play.
BC released the depth chart for the opener. It should come as no surprise that sophomore Andre Williams will get the start in place of the injured Harris. BC will have four new starters on the offensive line including redshirt freshman center Andy Gallik. Colin Larmond Jr. returns after missing all of 2010 with a knee injury. BC returns six starters on defense and while most of the new starters saw quite of bit of game action last season. Unfortunately, the dismissal of junior safety Okechukwu Okoroha and transfer of senior safety Dominick LeGrande has left the Eagles thin in the secondary. It looks like former receiver Hampton Hughes will start ahead of a pair of redshirt freshman at free safety. True freshman cornerback - and prized recruit - Al Louis-Jean is listed as a backup.
It is not suprising that BC is not getting a lot of love in the preseason predictions. ESPN's ACC blogger Heather Dinich has BC listed 8th in the conference on her preseason ACC Power Rankings. That's 5th place in the Atlantic Division. The Bleacher Report and Athlon also picked the Eagles to finish 5th in the Atlantic. Phil Steele gives BC the 6th best power rating in the ACC. BC came in 4th in the ACC's media poll. In that same poll, Montel Harris and Luke Kuechly were 1st and 3rd, respectively, in the ACC Player of the Year voting. Thank you Southern Pigskin for picking the Eagles to finish 2nd.
The conventional wisdom is that Florida State is the clear-cut favorite to win the ACC Atlantic. Wake Forest will be the doormat while BC, Clemson, Maryland and NC State battle it out for the 2-5 spots. I tend to agree with that assessment. FSU is well-positioned for a national title run and Wake Forest is simply awful. The other four teams all have the potential to be very good this season and possibly challenge FSU for the division title but also have the kind of weaknesses and question marks that could result in mediocre seasons. The Atlantic looks to be a little stronger than the Coastal this season, especially given Miami's problems. Virginia Tech is a heavy favorite to win the Coastal Division.
Here's a look at the new BC uniforms and the new helmet design. Here's a closer look at the helmet. I can't stand the new helmet design. I'm not a fan of the double stripe or the "stained glass" look between the stripes. Judging by the latest results from my fan poll, the same number of people love and hate the new design with a plurality having mixed feelings. Very interesting.