Louisville 56 Boston College 28
The Louisville Cardinals scored eight touchdowns in the first 35 minutes of Saturday's game as they demolished the Boston College Eagles by a score of 56-28. The BC defense had stopped Louisville for a three-and-out on the very first Cardinal drive of the game, but a facemask penalty extended the drive and it was all downhill from there. Louisville gained 582 yards of total offense and most of that came in the first nine drives of the game (eight TDs). BC had seven penalties, bringing their total to 45 (not including declined penalties) through four games.
If there was a bright spot, it was the BC offense which gained 427 total yards. Thomas Castellanos had 314 total yards (265 through the air, 49 rushing) and four touchdowns (3 passing, 1 running). Three BC receivers had at least 70 yards. Sophomore Lewis Bond caught two touchdown passes. The offense played well enough to win.
If there is a silver lining for Boston College, it lies in the rest of the schedule. BC is favored in next Saturday's game against 0-4 Virginia and could be favored the following week when they visit Army. #18 Miami is the only currently ranked opponent left on the schedule. If this team is going to turn things around in 2023, it must start on Saturday.

Here are the results of your 2022 MVP vote and the BC Coaching Staff approval ratings. Zay Flowers won the MVP vote in a landslide as expected. I don't think there is much doubt that he's the greatest wide receiver in Boston College football history. Good luck with Ravens, Zay.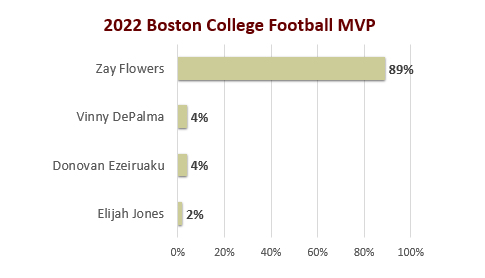 Coaching staff approval ratings for previous years are located HERE.
---
Articles and More

2023 BC Football Roster
(BCEagles.com)

Tentative Future Schedules

ACC Bowl Partners

ACC Helmets - Past and Present

BC Helmet History
Old Favorites

2013 Game Day Photos (USC)

2011 Game Day Photos

2010 Game Day Photos (FSU)

2009 Game Day Photos

How to be a Notre Dame Fan Flowchart

Kiper's Top Ten Most Scenic College FB Venues
Boston College - Best of YouTube

Finding the BC/BU hockey line

"The Kick" Defeats Notre Dame

Flutie to Phelan

Ryan Leads Comeback Win Over VA Tech

BC Marching Band with Dropkick Murphys

2008 Hockey Champs

BC Fight Song with Lyrics (the PC version)

Beanpot Trot (1986)

Feature on BC Cheerleaders
---
Statistics
Boston College: 2023 NCAA Rankings
| | | | |
| --- | --- | --- | --- |
| Statistic | Total | Run | Pass |
| Offense | 62 | 63 | 61 |
| Defense | 108 | 113 | 68 |

Boston College has more penalties (45) for more yards (394) than any of the 130 FBS schools

John Pupel ranks 22nd in the country in solo tackles (20)
---
Top 25 Polls: AP and Coaches Polls

Email: Patrick at pjreilly@dublin.com
Note: bceaglesfootball.com is not affiliated with Boston College or BC Athletics.
---