2014 Boston College Football Notes
Friday, January 2, 2015
Boston College Football Wrap-up
The Pinstripe Bowl was certainly exciting but ended in a very ugly way for BC. Many times this season, missed extra points threatened to cost the Eagles a victory. It finally happened in the bowl game. It's easy to blame Mike Knoll for the loss but the missed PAT was only one of many major blunders for the Eagles. Here's a partial list:
1Q: Murphy overthrew a relatively open Shakim Phillips who would have scored a touchdown.
1Q: Two plays later, Murphy overthrew a wide open Bordner on a fourth down pass. Bordner would have easily run for a first down and could have scored a touchdown on the play.
2Q: An illegal man downfield penalty nullified a 35 yard completion to Shakim Phillips.
2Q: A late hit by Ian Silberman cost the Eagles 15 yards and killed a drive.
2Q: A false start penalty at the end of the half helped kill a shot at a field goal attempt.
2Q: Steve Addazio chose to run the ball up the middle on 3rd down and 11 with less than 30 seconds remaining and one timeout left. What was he trying to accomplish? Did he really think they would get an 11+ yard run?
2Q: Addazio failed to call a timeout on a fourth down with 2 or 3 seconds left. He could have given Murphy a chance at a Hail Mary pass to the end zone (or created a defensive penalty giving them one more play). The odds of scoring were low but BC had nothing to lose because it was the last play of the half.
3Q: The BC defense had a very bad sequence where Penn State gained 47 yards on a 3rd and 9 situation (a 32 yard pass completion and a 15 yard facemask penalty). This led to a touchdown pass that allowed Penn State to get back in the game.
4Q: A holding penalty on the very first play of BC's next drive put the Eagles in a 1st and 20. They ran the ball three times then punted.
4Q: Shakim Phillips appears to catch a 24 yard pass from Murphy but the ball bounced out of Phillips's arms as he hit the ground.
4Q: With the game tied late in the 4th quarter, BC drove down the field to set up a 1st and 10 from the Penn State 11 yard line. The Eagles then ran three consecutive times (basically settling for the field goal) rather than trying to score a TD and forcing the Nittany Lions to go the length of the field to force OT. There was still 2:10 left on the clock which is way too early to settle for a field goal.
OT: Mike Knoll missed the infamous extra point.
OT: The BC defense allowed Penn State to convert on the 3rd and 15 play.
Bowl games are usually about a month after the final regular season game so more mistakes are expected. But this was excessive. There is no excuse for the terrible end-of-half/end-of-game play calling and clock management by Steve Addazio and the rest of the coaching staff. We see this week after week.
After winning bowl games in eight consecutive years between 2000 and 2007, BC has now lost five consecutive bowl games over a span of seven years. The Pinstripe Bowl was certainly a game they should have won.
As for the season, BC improved quite a lot though it isn't reflected in their 7-6 record (matching 2013). Here is the stat comparison for 2013 vs 2014.
| | Statistic | 2013 | 2014 |
| --- | --- | --- | --- |
| | Record | 7-6 | 7-6 |
| | Total Offense (NCAA Rank) | 92 | 80 |
| | Rushing Offense (NCAA Rank) | 20 | 13 |
| | Passing Offense (NCAA Rank) | 112 | 122 |
| | Total Defense (NCAA Rank) | 92 | 13 |
| | Run Defense (NCAA Rank) | 58 | 2 |
| | Pass Defense (NCAA Rank) | 111 | 65 |
| | Point Differential Per Game | -1.2 | +4.9 |
| | Kickoff Return Yardage | 20.1 | 26.0 |
| | Penalties Per Game | 3.6 | 4.5 |
| | Field Goal Attempts/Made | 20/20 | 12/19 |
| | Extra Points Missed | 1 | 9 |
The key numbers above are point differential and the defensive rankings. Last season, the Eagles were outscored by an average of about a point per game. They were fortunate to eke out a winning record. This year's team, however, should have been much better than the 7-6 record they posted. They easily could have, and perhaps should have, beaten Colorado State, Clemson, Florida State and Penn State. They played well enough to have a ten win season but some poor coaching decisions, player mistakes a key times and plain old bad luck cost them a great season.
The passing offense struggled as it did last year but the defense improved significantly. Last year's mediocre run defense was stellar in 2014. Only Michigan State surrendered fewer rushing yards per game. The pass defense wasn't great this season (especially against Penn State) but there was noticable improvement. They allowed 230 yards per game this season down from 268 a year ago. More importantly, passing yards per attempt against the BC defense dropped from 8.3 to 7.1. That may not seem like a big difference, but it is.
As we look ahead to 2015, there are things to be excited about as well as concerns.
On the plus side, BC will have some of the best young running backs in the ACC. BC's top five backs this season were all Freshman and Sophomores. The Eagles will lose some excellent players on defense but will have key leaders back in 2015. Gutapfel, Strizak and Kavalec (combined 21 tackles for lost yardage) will be Juniors. Daniels and Simmons (top two tacklers) will be Seniors. The kicking game can only get better, right?
The biggest concern I have going into 2015 is the offensive line. BC will have to replace all five starters from an excellent offensive line. Darius Wade will likely land in the starting quarterback position in his Sophomore season. If he contributes anything close to what Murphy did on the ground, we'll all be thrilled. I'm hopeful that Wade (or someone else) can be a more accurate passer than the inconsistent Murphy. Asprilla, Mihalik and Keyes will be missed but there seems to be enough talent to put together another solid defense next season.
In the offseason, someone needs to sit down with Steve Addazio and give him a tutorial on managing the play calling and time management aspects of the game. I'm talking primarily about the end of the second and fourth quarters. I would also like to see Addazio show more confidence in his offense. I sense that part of his brutal end-of-half decision-making comes from a fear that his players will make a big mistake if they call a passing play in a critical situation. Some of this fear is warranted but it sends a terrible message to the team when the coach shows no confidence in his players. Quarterbacks can't make big plays in "crunch time" if they are never given the chance to make those plays. Mistakes will be made but they should learn from those errors and become better players.
Speaking of the coaching staff, I've tallied your votes. Coach Addazio finishes with an impressive 94% approval rating, up from 86% last season. Don Brown checks in at 85% (up from 77%) and Ryan Day at 77% (up from 53%). Clearly, you have all seen the progress the program has made in the last year that isn't reflected in the win-loss record. Next season will be a big one for this coaching staff. In Year 3, progress alone with not satisfy most of us. They need to win more games.
Tyler Murphy cruised in the BCEaglesFootball.com Most Valuable Player voting. He grabbed 83% which was the second highest percentage in the ten years you've been voting for MVP on this website (Luke Kuechly won with 90% in 2011). Thank you, Tyler, for giving us a very exciting season.
Well folks, that wraps up the 2014 Boston College Eagles Football season. I'll post the 2015 schedule when it's available. I expect it to be released in the first half of February but a little earlier or later is possible.
College Football Playoffs
The first ever College Football National Championship game in the top division is now set with the Oregon Ducks taking on the Ohio State Buckeyes. Oregon dominated a fraudulent Florida State team and Ohio State stunned #1 Alabama. The new playoff system has already paid dividends because the BCS would have given us a Florida State vs Alabama matchup. I think the two best teams will be playing for the championship though TCU might disagree (which is why we need an eight-team playoff).
The new system is hardly perfect. This year had some controversy, as I'm sure will be the case every year. Three of the four playoff teams chosen by the Selection Committee were slam dunks. Alabama and Oregon each lost just once and were champions in the two toughest conferences. Florida State could have just as easily been 7-6 as 13-0 but their undefeated finish in one of the top five conferences could not be overlooked. That left TCU, Ohio State and Baylor. You could easily make a case for any of the three. What bothered me was the seemingly arbitrary re-ranking of the these three teams plus Florida State over the final weeks of the season. I don't have a big problem with the Ohio State selection but dropping TCU from 3 to 6 after they won by 52 points was ridiculous. This leads to me ask why the Selection Committee chose Ohio State. I came up with five possibilities:
They truly thought Ohio State was the most deserving of the three teams under consideration.


They chose Ohio State because it is one of college football's "storied" programs.


They chose Ohio State because they though they would create a better TV audience and more buzz.


They wanted to avoid the controversy of choosing a one-loss TCU team over a one-loss Baylor team that beat TCU this season.


They wanted to penalize the Big 12 for not having a championship game.


I'm going to give the Committee the benefit of the doubt and say that it was mostly #1 but I really think #4 played a role in their decision. #2 and #3 will always be in play (I know we'll see the day when Notre Dame is chosen over more deserving teams simply because they are Notre Dame).
I also didn't like the final seeding. Florida State was undefeated and therefore deserved a spot in the playoffs but they should have been the #4 seed. They could have easily lost as many as six of their last seven games. Putting Ohio State at #3 would have had the added bonus of setting up a traditional Big 10-Pac 12 Rose Bowl matchup. As it turns out, Oregon and Ohio State were the two best teams so in the end it worked out.
I think we will eventually have an eight-team playoff. It would have been fun to see TCU, Baylor, Mississippi State and Michigan State get a shot. Interestingly enough, choosing eight teams this season would not have caused any controversy (most years it would). But the important thing is that the BCS is gone forever. Hopefully, the Selection Committee will have a little more consistency in its rankings as we move forward. I'm guessing the Big 12 will attempt to expand to ... you guessed it ... 12 teams so they can have a conference championship game and possibly make a better case for a playoff spot.
---
Wednesday, December 10, 2014
Boston College to Pinstripe Bowl
Boston College will face Penn State in the New Era Pinstripe Bowl on December 27th at Yankee Stadium. The Eagles are currently a 2 1/2 point favorite. After starting the season 4-0, Penn State lost six of their final eight games (all in the Big 10). Like BC, Penn State had some heartbreaking losses this season. They lost by 5 at Michigan, by 7 in double-overtime against Ohio State, by 1 against Maryland and by 2 at Illinois. They had a solid season on defense. They ranked 8th in the country in points allowed (BC was 18th). On the other side of the coin, they ranked 115th in scoring (BC was 85th). So the Pinstripe Bowl will feature a pair of teams with excellent defenses and below average offenses. This is why the over/under on the game is just 39 points (Baylor-Michigan State is currently at 70).
Statistically, the biggest difference between the two teams is the BC running game. BC and Penn State were pretty even on defense. Penn State threw for more yards than BC, but BC ran the ball a lot better than Penn State. The Eagles averaged 5.1 yards per carry this season compared to just 2.9 for the Nittany Lions (fourth worst in the country). However, the Penn State ground game improved late in the season. The key matchup will be the BC run game (ranked 13th nationally in rushing yards per game) against the Penn State run defense (Lions opponents averaged just 2.6 yards per carry, lowest in the country).
Penn State Sophomore quarterback Christian Hackenberg had a miserable season (8 TDs, 15 INTs). In his final eight games, he had 4 TD passes and 10 interceptions. He completed more than 50% of his passes in only two of those games. He has passed for more than 200 yards just once since September 13th. It didn't help that Penn State gave up 42 sacks this season. The Penn State running game seems to be coming together. Junior Akeel Lynch rushed for 137 yards against Illinois and 130 against Temple in recent weeks. Senior Bill Belton ran for 137 against Indiana four weeks ago.
Senior linebacker Mike Hull led a tough Nittany Lions defense with 134 tackles. Senior defensive tackle Anthony Zettel had eight sacks among his 15 tackles for loss this season. Penn State has a clear advantage in the kicking game. Senior Sam Ficken converted 23 of 28 field goal attempts including 7 of 8 between 40 and 49 yards. BC, of course, struggles to make extra points.
Here is the official Pinstripe Bowl website as well as a few Pinstripe Bowl Previews:
---
Sunday, November 23, 2014
The losses earlier this season to Colorado State (giving up winning TD on 4th and 12) and Clemson (probable winning TD dropped) were hard to take but not nearly as much as yesterday's game at Tallahassee. The Eagles played an outstanding road game against the #1 team in the country (#3 based on playoff selection standings). BC played well enough to beat Colorado State and Clemson but there were some key mistakes by the players that led to the loss. I put yesterday's loss, however, almost entirely on the coaching staff.
Before I have to once again talk about Steve Addazio's ongoing atrocious decision-making late in the second and fourth quarters, I want to say some good things. I think this coaching staff has done an excellent job this season in terms of player development and motivation. The attitude has certainly changed for the better since the end of the 2012 season. BC is probably three or four plays away from being 9-2. They have only played poorly twice. In general, the younger players have played well beyond expectations and have made far fewer mistakes than you would normally see from inexperienced players. That is a sign of good coaching. BC is one of the least penalized teams in college football. That too, is a sign of good coaching. There are some really talented players on this BC roster and a lot of very good football players. But the overall athletic talent on the BC roster does not compare to most of the teams they face in the ACC, particularly Florida State. To quantify, over the past three years BC has signed a total of five 4 and 5-star recruits (reserved for the top 300-400 high school seniors). At the same time, Florida State has signed 40. Yet you can make a solid argument that BC outplayed Florida State yesterday in their own stadium. That's a credit to this BC coaching staff. That leaves room for criticism of another part of the evaluation of a coaching staff, which is recruiting, but I'll leave that for another time.
Now for the harsh words. Once again, Steve Addazio's decision-making left me angry and frustrated. In general, I thought the play calling was fine. BC was running the ball extremely well and they stayed with it. They mixed it up with some running inside with Hilliman, a few to the outside with Alston, a little of both with Outlow and called a few runs for Murphy. Initially I wanted more of a passing game but the running game was working and the ball was wet (FSU had several drops) so the approach made sense. My first criticism is a mild one. At the end of the first half, BC had a 4th down and 11 at the Florida State 41-yard line with 14 seconds left. They decided to punt and Florida State took a knee to end the half.
Had BC instead chosen to roll out Murphy to the right for a pass down the field, the two most likely scenarios would have been: (1) a completed pass which would have given BC a final field goal opportunity within a very makeable range. (2) an incomplete pass that would have left Florida State with time for either one 59-yard Hail Mary attempt or possibly a short pass to set up about a 60-yard field goal. The less likely scenarios would have been: (3) a BC touchdown pass or (4) a fumble or quick sack which would have given Florida State time for two plays and a realistic chance to set up a makeable field goal. I'd have to guess at the odds of each scenario but I know for sure that if BC goes for it on fourth down, their odds of getting points were a lot higher than Florida State's odds of getting points. So why would a head coach not choose to take advantage of those odds? Especially when you're trailing and looking to upset the #1 team on the road. Addazio has been absurdly risk-averse in situations like this for two years (earlier this season he actually kicked a field goal on third down with 17 seconds left in the half). The only explanation I've come up with is that he just doesn't have confidence in his players which doesn't make sense because they have not been turnover-prone. I don't think I'd categorize this as a monumental blunder, but it was clearly the wrong decision.
Unfortunately, Steve Addazio (and maybe Ryan Day) saved the monumental blunder for the second half. In case you weren't watching the game, let me set the stage. The game was tied 17-17 with 5:30 left in the fourth quarter. BC was faced with a 2nd down and 9 from the left hash mark (which is important). The Eagles had run the ball 14 consecutive times and Florida State was struggling to stop the run. On the 2nd down play, Murphy set up behind the left tackle and ran to the left sideline as a pass receiver. The snap went to QB-turned-receiver Josh Bordner who then threw the ball about 30 yards to Murphy who jumps and nearly makes a great catch in the middle of three defenders at the FSU 2-yard line. On the next play, Murphy carried for a one-yard gain (still on the left hash). Alex Howell then missed the 42-yard field goal wide right and you know the rest. I like the Bordner to Murphy play call BUT THAT WAS NOT THE TIME TO USE IT!
As I just pointed out, Steve Addazio has been extraordinarily risk-averse over the past two years. But at a time when conservative play-calling is not only working but is the only logical approach (in field goal range, his team needing a field goal to take the lead), he chooses one of the riskiest plays in the playbook. A head coach who kicks field goals on 3rd down with 17 seconds left is calling a play where a wide receiver throws a wet ball to a quarterback in a tight part of the field. I'm fine with that play call if it happens earlier in the game. I might have been able to live with that play call if BC was down by more than three points and they need a touchdown, not a field goal. I certainly would have been fine with a relatively safe pass in that situation if it was by a quarterback to a wide receiver, not the other way around. The TV commentators questioned the call because it resulted in an incomplete pass. My bigger issue was the high likelihood that throw ends with an interception. Bordner actually made a great throw with three defenders in the area. Also, I mentioned the ball being on the left hash mark because that made the field goal attempt a little tougher. A run to the right on second down would have at least given the kicker (which ended up being Alex Howell but may have been Mike Knoll had it been closer) a better angle. With five minutes remaining you certainly don't want to just settle for the field goal so the passing game has to be considered. But a high-risk trick play? That is just terrible situational coaching.
As for the players, I thought it was a very good effort all the way around, considering the opponent and the weather conditions. It certainly wasn't Tyler Murphy's best game (121 total yards), but he made the two big plays that put BC into the endzone and had at least five key first down runs. Jon Hilliman and Marcus Outlow just pounded away at the Florida State defense. Sherman Alston had a couple of very nice gains. The stats for the passing game are somewhat amusing. Six total completions: five for 6 yards of less and one for 49. But the running game was clicking so there wasn't a great need to throw the ball.
The defense also played well, considering they were facing a team that was averaging 37 points per game. They gave up a total of 141 yards on the first and last Florida State drives of the game and 233 in FSU's other six drives. They nearly forced a three-and-out on the Seminoles first drive of the game but tight end Nick O'Leary made an unbelievable one-handed catch in tight coverage on third down. Who knows, if O'Leary doesn't make that catch (FSU scored a TD on the drive), BC might have won. It's hard to imagine that a six yard completion on the third play of the game could change the outcome but it very well might have.
Obviously, the low point was Alex Howell missing the field goal but it was good to see Mike Knoll back. He nailed a 40-yarder in the first quarter which makes you wonder why Howell was kicking from 42. Howell is the "long range" kicker but is 42 yards long range?
The good news for BC is that they have a terrible Syracuse team visiting next week. The Eagles should be headed to a bowl game win or lose but it would be nice to finish above .500 and possibly move themselves into a better bowl game. Here's the link to the latest bowl projections:
---
Monday, November 10, 2014
Boston College drops third consecutive home game
Saturday's game was a step back for a BC Football program that had been making solid progress over the past couple of months. Since their poor performance in the ACC opener against Pittsburgh, the Eagles had won five of seven games and without a pair of last-minute mistakes would have won the other two. Despite a turnover and some penalties, BC was ahead 13-3 on Saturday, but things fell apart over the final three quarters. They looked like the team that we saw against Pittsburgh in early September. Obviously, setbacks are inevitable. The good news is that the Eagles have two weeks to shake off this loss and prepare for Florida State.
Tyler Murphy had been playing very smart football. I mentioned last week that he had gone four games without throwing an interception. Unfortunately, Murphy threw an interception on the very first play of the game and would end up with four turnovers that led to 17 Louisville points. Murphy had been averaging 107 rushing yards per game but only gained 42 on Saturday. The Eagles did make some big plays (40+ yard receptions by Dan Crimmins and Jarrett Darmstatter and a 36-yard run by Sherman Alston) but the offense didn't do a whole lot outside of those plays.
The highly-ranked BC defense got off to a decent start on Saturday night. Louisville made three trips inside the Boston College 5 yard-line in the first quarter and a half but could only produce three total points. The Eagle defense gave up a field goal, forced a fumble and made a fourth down stop on those drives. But, Louisville scored touchdowns on five of their next seven possessions. The BC defense couldn't stop the run or pass during that time. Cardinals quarterbacks were a combined for 17 for 24 for 257 yards with 2 TDs and 0 INTs. Louisville rushed for 166 yards, nearly double the previous average for the BC defense (89/game). The BC tackling has been pretty solid this season. On Saturday, it was terrible.
Alex Howell had another great game punting the ball. He averaged 51.7 yards on his three kicks. On the down side, Joey Launceford missed another extra point. That's the seventh failed extra point this season for BC. Nate Freese missed two FIELD GOALS in 2012 and 2013 combined.
We had another curious end of the half for the coaching staff. They did the right thing in trying to get points on the drive that started with 1:49 remaining in the half. Louisville ended up blocking a BC punt and scoring a touchdown but trying to move the ball on that series was the right move. What bothered me came after the Louisville TD. Addazio choose to have Murphy take a knee despite the fact that a penalty gave BC the ball on their own 40 yard-line with 15 seconds remaining. BC had one timeout which gave them at least one play, maybe two, to get into field goal range. If Murphy throws an interception, Louisville would only have time for one desperation heave of 50+ yards. Maybe Addazio was worried about a strip sack that could have given Louisville a final field goal attempt but that scenario was very unlikely. The odds of BC scoring in that situation were well below 50%. However, BC's odds of scoring (completing a pass and making the field goal) had to be at least ten times greater than Louisville's odds of scoring in those final 15 seconds. That's why a competent football coach will have his quarterback sling it down the field in that situation.
As bad as BC's performance was, they had a better day than the referees. The strangest call came when Louisville QB Reggie Bonnafon was pushing the ball towards the pylon in an attempt to score a touchdown. The ball ended up flying in a forward direction (for about two yards) out of Bonnafon's hand, hitting the pylon. Every single other time I've seen this play happen in the thousands of hours I've spent watching football, it's been called a touchback. Somehow these refs decided it was a forward pass (apparenly the pylon is a Louisville wide receiver). Louisville was assessed an illegal forward pass penalty and was able to keep the ball. The Cardinals didn't score (BC had a nice goal-line stand) but eventually the field position helped them score a touchdown.
There was an interesting shake-up in the bowl predictions. Mark Schlabach of ESPN is predicting a Boston College-Florida Music City Bowl. To me, this seems like a big stretch for BC. The other ESPN expert, Brett McMurphy, thinks it will be BC and East Carolina in the Military Bowl. Jerry Palm of CBS Sports also has BC going to the Military Bowl (vs Cincinnati).
---
Sunday, November 2, 2014
Boston College gains bowl eligibility
Saturday's victory should lock up a bowl invitation for Boston College. Bowl-eligibility doesn't guarantee a bowl game but it's very likely that every eligible team from a major conference will be playing in the postseason. Like many of BC's games this season, Saturday was a roller coaster ride. The BC defense looked terrible on Virginia Tech's opening drive, but the Eagles dominated the next 2 1/2 quarters (outscoring Tech 23-3). The Hokie fake punt early in the fourth quarter led to a terrible stretch for BC but then they rebounded with two excellent scoring drives. The offense, defense and special teams all did some great things. Each unit also showed some weaknesses. BC is now 3-2 in conference play, 3-0 on the road and 0-2 at home.
Tyler Murphy played another solid game for BC. He did miss a couple of receivers who were open for big plays down the field (including Shakim Philips who would have had an easy TD) but also made some excellent throws and again made smart decisions. Murphy has not thrown an interception in his last four games (68 passes) while throwing five TD passes. BC's final rushing numbers (47 attempts for 258 yards, 5.5 per rush) look great on the stat sheet but in reality they did not run the ball very well. If you excluded TD runs of 57 and 68 yards by Murphy and Myles Willis and a 16-yard reverse by Sherman Alston, BC's rushing total would be 44 rushes for 117 yards for an average of 2.7 yards per carry. Virginia Tech certainly slowed down the BC rushing attack but those big plays made the difference. I still think BC should be passing more. The receivers are getting open a lot, particularly on play action passes. They will need more from the passing game if they want to beat either Louisville or Florida State.
The defense was exceptional between Virginia Tech's second drive and the end of the fourth quarter. The fake punt was an obvious turning point. I'm not sure if that was because it woke up the Hokies, because it shook up the Eagles or a combination of both. If you didn't know better you would think you had seen two entirely different defensive units for the Eagles as the following table shows:
| | Plays | Yards | Yards Per Play |
| --- | --- | --- | --- |
| Virginia Tech's First Drive | 9 | 95 | 10.6 |
| VT's Second Drive to Play Before Fake Punt | 40 | 97 | 2.4 |
| Fake Punt to End of Game | 31 | 221 | 7.1 |
We've seen this from the BC defense this season. They have forced a lot of three-and-outs but have also given up their share of long, quick scoring drives. They have also weakened as games have moved along. USC had 140 yards on their final two drives of the fourth quarter after nine consecutive empty drives (eight punts plus a one-play drive at the end of the first half). Colorado State ended the game with five consecutive 50-plus yard drives after starting with two punts and two interceptions. Clemson had a six-play, 82-yard TD drive midway through the fourth quarter (only 10 points otherwise). The Wake Forest offense looked hopeless (six drives for 31 total yards) before looking somewhat unstoppable (five drives for 244 yards) through most of the second half. Overall, I'm thrilled with the progress of the defense but they need to figure out how to finish strong. The opposition's offensive coaches are clearly making the right halftime adjustments.
Special teams also had their ups and downs. Joey Launceford missed another extra point (and nearly missed a couple more) but Alex Howell drilled a 44-yard field goal to put BC ahead 26-24 in the fourth quarter. Howell also did a spectacular job on the punting side, pinning the Hokies inside their five-yard line three times. BC did not cover kicks well as Virginia Tech accumulated 123 return yards (four returned kicks, one returned punt). However, a fumble recovery on a kickoff led to a BC field goal.
If BC follows the path of the oddsmakers (loses to Louisville and Florida State and beats Syracuse) they will finish with the same 7-5 regular season record they had a year ago but the numbers show that the 2014 Eagles are the better team. BC ranks 65th in the country in total offense (9th in rushing) and 11th in defense (4th against the run). They are outscoring opponents by an average of 7.3 points per game. Last season, they ranked 92nd in both total offense and total defense and gave up 1.2 more points per game than they scored. Last year's team was very fortunate to win seven games while this year's team is a 4th and 12 defensive breakdown (Colorado State) and a dropped TD pass (Clemson) away from being 8-1. It's pretty remarkable to see a BC team lose a four-year starting quarterback, a 2,100 yard rusher, a 1,000 yard receiver, the nation's best kicker and two NFL-drafted defensive players and actually get better.
Unfortunately, BC is still looking at one of the less attractive ACC bowl invitations. Prior to this weekend, both ESPN experts (Brett McMurphy and Mark Schlabach) had BC going to the Military Bowl on December 27th in Annapolis, MD to play Temple. We'll see if the win at VA Tech changes that. Jerry Palm of CBS Sports also thinks it will be the Military Bowl for BC, but he thinks Cincinnati will be the opponent. If BC can win two more games, their chances of being invited to a better bowl with a more interesting opponent should increase as many ACC schools are now fighting just to get to 6-6 and bowl eligibility.
The first point spreads are out for next Saturday's game. The Wynn Sportsbook has Louisville by 3.
---
Monday, October 20, 2014
Boston College loses another heartbreaker at home
The way you view the Boston College football season through seven games will probably determine whether you are a "glass half full" or "glass half empty" kind of person. The "Glass Half Empty" side will focus on the blown opportunities. The Eagles are one 4th and 12 Colorado State conversion and one dropped would-be touchdown pass away from being 6-1 and (probably) in the Top 25. The "Glass Half Full" crowd will be excited that the program is making progress and focus on the strong likelihood that BC will be invited to a bowl game for the second consecutive season. Over the years, I've spent a lot of time in the "Glass Half Empty" realm thanks to many strong BC teams that have let great opportunities to grab major bowl bids slip away. Because my expectations for this season were so low (and dropped a bit more after the Pittsburgh game), I currently find myself on the "Glass Half Full" side of the aisle. Both the offense and the defense have been much better than expected. We knew Tyler Murphy would present a greater running threat than Chase Rettig but I don't think anyone was predicting that he'd be the top running quarterback in the country. Murphy's big play ability is making the Eagles far more fun to watch than I expected. I'll certainly lose that "Glass Half Full" mentality if BC manages to lose next Saturday to lowly Wake Forest, but for now I'll take the 4-3 record and the strong prospects for another bowl invitation.
Yesterday's loss was all about missed opportunities. The three more critical blunders were as follows:
In the first quarter (second drive), Murphy threw a perfect pass to a wide open Josh Bordner in stride at the Clemson 35. Bordner could have scored a touchdown and would have at least been inside the 25 but he dropped the pass. BC ended up punting.
In the third quarter (second drive), a double handoff play got the ball in the hands of former QB Josh Bordner. Unfortunately he badly underthrew a pass to Charlie Callinan who was wide open for an easy touchdown. Callinan made a great adjustment for a 35-yard reception but the drive stalled and BC was forced to punt.
With just over a minute left in the fourth quarter, Murphy's perfect throw to an open Tyler Rouse would have produced the go-ahead touchdown but the pass slipped through Rouse's hands. Obviously, BC didn't convert the first down and Clemson was able to run out the clock.
Add these three plays together and you have another 17 to 21 points on the board for BC. I didn't even mention a couple of costly penalties including a chop block that killed the opening drive of the game and a 12 men on the field penalty on 4th down at the end of the game. In short, BC really gave this one away.
The BC offense gained only 263 yards but that number could have easily been close to 350 if not for the three mistakes mentioned in the bullet points above. The BC offense was able to do some good things at times but was certainly not consistent. The Eagle offense sputtered early (they had just nine - yes, nine - net yards in their first five drives) before an impressive 63-yard touchdown drive midway through the second quarter. The next four drives netted just 32 total yards. At that point the Eagle offense opened things up a bit and had some success. BC gained 149 yards in their final three drives of the game. Tyler Murphy completed just 8 of 19 passes for 108 yards with 2 TDs and 0 INTs but if you adjust for the Bordner and Rouse drops, it could have been 10 for 19 for 187 yards, 4 TD, 0 INT. That assumes that Bordner would have scored on the first drop (a big stretch since the Clemson defender was closing in). Murphy rushed for 55 yards but 43 of those came on one spectacular run on the final drive so his running game wasn't much of factor. Freshman Charlie Callinan had a solid game (3 catches, 64 yards). Hopefully, he can do more as the season moves along.
The BC defense gave up 398 total yards but that number is a bit deceiving because Clemson ran so many plays (81). Clemson averaged just 6.3 yards per pass (7.2 for BC) and 3.1 yards per rush (3.3 for BC). The problem for BC was third downs. Clemson converted 10 of 21 third down opportunities compared to just 2 of 14 for the Eagles. The other thing to note was that Clemson moved the ball in spurts. Clemson's first TD drive (second quarter) ended with plays of 19, 15 and 17 yards. Their second TD drive (fourth quarter) ended with plays of 32, 6, 12 and 32 yards. Those seven plays produced 133 yards and 2 TDs. Clemson's other 74 plays produced just 165 yards (just over two yards per play). Needless to say, it was a very strange game.
Special teams had a very good day except for the missed extra point. Alex Howell was phenomenal. His ten punts went for an average of 50.1 yards and the BC coverage on those punts was outstanding (10 total punt return yards for Clemson). As for the BC placekicking ... they have missed three extra points and five field goals this season. Nate Freese missed one extra point and three field goals in the 2012 and 2013 seasons combined.
BC has opened as a 13 point road favorite on Saturday at Wake Forest (just one line released so far). As things stand now, BC should also be favored to beat Syracuse in the season finale but will almost certainly be an underdog in the prior three games (at Virginia Tech, Louisville, at Florida State) so their odds of making a bowl game will drop dramatically if they lose this week. Wake Forest is 2-5 with wins over Gardner-Webb and Army. They rank dead last (125th) in total offense and rushing offense. They are 123rd in scoring offense (14.4 points per game). They are a respectable 41st in total defense and 57th in scoring defense (24.9 per game) but only 81st in run defense.
---
Sunday, October 12, 2014
Boston College tops NC State
The BC Eagles have reached the midway point of the 2014 season with the 4-2 record. Despite the heartbreaking loss to Colorado State, I'm pretty happy with the team's overall level of play and the 4-2 record. Notching win #4 on Saturday was critical because the Eagles can now attain bowl eligibility by defeating Wake Forest on the road and Syracuse at home. I'm certainly not conceding defeat in the games against Clemson, Virginia Tech, Louisville or Florida State, but it's nice to know that BC can still reach the postseason if they are not able to upset one of those four teams.
The running game was again the key to victory for BC. The Eagles rushed 57 times for 310 yards which enabled them to possess the ball for nearly 39 minutes. Jon Hilliman was bottled up to some degree (just 3.1 yards per rush) so it was Tyler Murphy's running that caused most of NC State's headaches. His 132 yard performance gave him 761 rushing yards for the season, good enough for 15th in the country. He's #1 in rushing yards among quarterbacks. Murphy's passing stats (12/19 for 101 yards) won't jump out at you but the passing game was a critical part of BC's early success. Murphy hit Dan Crimmins for back-to-back first down completions on the opening drive. First down completions to Sherman Alston and Charlie Callinan sparked BC's third touchdown drive. Murphy made great decisions all day long.
After a rocky start, it was a great day for the defense. NC State scored two touchdowns and gained 110 total yards on their first two drives of the game, but the BC defense was dominant for the remainder of the game. If you exclude a meaningless Hail Mary on the final play of the first half, the Wolfpack gained just 58 total yards on their final nine drives of the game. BC forced two turnovers in a second half where NC State could do very little. Josh Keyes had 10 tackles and one of BC's four sacks. Brian Mihalik added an interception and a sack.
Sherman Alston gained 45 of his 121 all-purpose yards (offense and special teams) on a couple of punt returns. One went for 36 yards. Alston touched the ball just nine times to gain those 121 yards (13.4 yards per opportunity). BC continues to struggle in the kicking game. Freshman Mike Knoll was 1 for 2 in field goal attempts.
I hate to keep bashing Steve Addazio's game/clock management but it seems like he's doing something remarkably foolish at the end of the first half of every game. BC's final drive of the second quarter began with 4:28 remaining in the half. Murphy moved the ball downfield nicely and initially it was smart to let the clock run a bit to reduce the time that the NC State offense might have at the end of the half. Unfortuntely, the coaching staff let the clock run too much. A Murphy 2nd down run to the 15-yard-line ended with 53 seconds left in the half. Rather than use one of their two timeouts either immediately or with 25 to 30 seconds remaining, Addazio let the clock run all the way down to 11 seconds before Murphy called a timeout (the play clock was at 0:01). That left BC with just two plays instead of the six or seven they could have had. BC didn't convert on 3rd down so the coaching blunder didn't really matter but had they picked up the first down, they would have wasted an opportunity to score a touchdown.
I have to laugh at the "Be a Dude" mantra because the decision-making by the coaching staff in situations like this (particularly at the end of second quarters) reflects quite the opposite approach. Letting the clock run and settling for a field goal when a TD is well within reach, kicking a field goal on 3rd down with nearly 20 seconds left and punting on fourth and short from inside the opponent's 40 yard line are all indications that the coaches have little confidence in their players. The Colorado State game was lost largely because of the ultra conservative play calling in BC's second to last drive. The BC coaching staff plays not to lose. They need to start playing to win. In other words, Be a Dude.
To be fair, Addazio and the coaching staff are doing a good job getting the Eagles ready to play. After the ugly loss to Pittsburgh, they have played very well with the exception of the second half meltdown against Colorado State. The young players are developing faster than expected and Murphy looks very comfortable as we enter the second half of the season.
BC's stats are looking very impressive at the midway point. They currently rank 4th in the country in rushing yards per game (behind Wisconsin, Army and Navy). They rank 6th from the bottom in passing yards per game (ahead of Army and Navy, among others) putting them 44th among 125 teams in total offense. The bigger shock is on defense where the Eagles rank 8th in the country. They are also 6th in time of possession and 8th in fewest penalties and penalty yards per game. Last year, BC ended the season ranked 92nd in both offense and defense so, at least so far, this is a major improvement.
Despite Clemson's quarterback issues, they are currently a 7 1/2 point favorite to beat the Eagles on Saturday. The Clemson defense ranks 6th in the country so this will be a huge test for a BC running game that has seen little resistance this season. Clemson ranks 38th in total offense but most of those yards came via the pass. Freshman star QB Deshaun Watson will be out five weeks with a hand injury. Backup Cole Stoudt completed 20 of 33 for 162 yards, 0 TD, 1 INT last week after coming in for Watson. BC is coming off a dominant victory on the road (though NC State is not very good) and Clemson just lost their starting quarterback. Clemson was embarrassed by Georgia, couldn't beat a Jameis Winston-less Florida State team and nearly lost at home to Louisville. BC's home field advantage is minimal but it's still a road game for Clemson. To me, 7 1/2 points seems excessive.
It's still a bit early for bowl projections but here they are:
---
Monday, September 15, 2014
Boston College shocks #9 USC
On Saturday evening Boston College pulled off the biggest upset of the three-week old 2014 season when they defeated #9 USC 37-31. This seemed not only improbable but nearly impossible following BC's ugly home loss to Pittsburgh and USC's road victory over #13 Stanford the previous week. BC's odds of victory surely dropped well below 1% when they put themselves in a 10-0 hole just twelve minutes into the game. But the Eagles battled back with a punishing ground game that netted an incredible 452 rushing yards. We'll find out in the coming weeks if this victory was indicative of a team that is much better than we expected or an anomaly, but for now we can celebrate the program's biggest victory in six or seven years.
The most amazing part of BC's victory was the complete dominance at the line of scrimmage. The Eagles outgained the Trojans on the ground 452 yards to 20. You couldn't expect that kind of a margin against even the weakest FCS team. Even if you remove the quarterback yardage (Murphy's huge rushing totals and Kessler's negative sack yardage), BC still outgained USC 262 to 50. That's 6.6 yards per non-quarterback carry for the Eagles to 2.1 for the Trojans. Murphy and the running backs will get most of the glory (and deservedly so) but the run defense set the stage for the upset. It was hard to believe that this was the same defense that surrendered 303 rushing yards to Pittsburgh last Friday.
As for the passing game, Tyler Murphy completed just 5 of 13 passes for 54 yards. However, he was victimized by some dropped passes and BC didn't need much of a passing attack the way they were running the ball. Obviously the passing game needs to improve (Murphy has completed less than 50% of his passes for only 120 yards per game) but I think BC proved that their key to victory this season will be the same as it was last season: the running game. The difference is that this season it will be by committee, not on the shoulders of one man.
USC quarterback Cody Kessler did pass for 317 yards and four touchdowns so it was not a great statistical day for BC's secondary but much of that yardage came in USC's final two drives. After scoring on their third, fourth and fifth drives of the game, USC punted on their next eight possessions (not including the one-play drive at the end of the first half). In USC's first 11 possessions that started in BC territory, they had no points and only 101 total yards. USC's 17 first half points came on possessions that started in BC territory. Their final two touchdown drives were impressive (a combined 140 yards on 19 plays) but thankfully it was too little, too late.
One stain on the victory was Steve Addazio's decision to attempt a 47-yard field goal at the end of the first half on 3rd down and 2 with 19 seconds left on the clock. Obviously, there was plenty of time left for one, if not two, additional plays. BC had no timeouts but the clock stops on a first down so a completed pass (safe assumption that it would be at least two yards) would allow plenty of time to spike the ball. You lose nothing with an incomplete pass. The risks are an interception or a sack but clearly the rewards outweighed the risks, especially given BC's problems with the kicking game. Addazio appears to be a solid motivator and he deserves a lot of credit for putting his team in a position to beat a top ten team but his decision-making in these types of situations continues to be awful.
Outside of a season opener, I don't like seeing FCS games on the schedule but I am thrilled that Maine is next on the schedule. Following an emotional victory, there is a high probability for any team to suffer a letdown (just ask USC). I'm not saying a letdown will happen but it's nice to know that BC is facing an opponent they can beat without playing their best football. The schedule sets up nicely for BC. After Maine they host Colorado State followed by a bye week then a visit to NC State. This gives BC a decent chance to finish the first half of the season with a record of 5-1 which would put them just one win from bowl eligibility. The second half includes Clemson and Louisville at home and Virginia Tech and Florida State on the road so wins may be hard to come by.
The BC victory was even sweeter because it came on a night when the program honored Welles Crowther, a Boston College grad who died on 9/11 while saving lives in the World Trade Center. Welles was known for carrying a red bandanna so the team wore helmets with a special red bandanna stripe and the coaching staff wore shirts with bandanna designs. Many in the crowd wore or displayed bandannas as well. To learn more about Welles Crowther, please click HERE.
Finally, special thanks to Tom Henault for a few pictures from Saturday's game/celebration.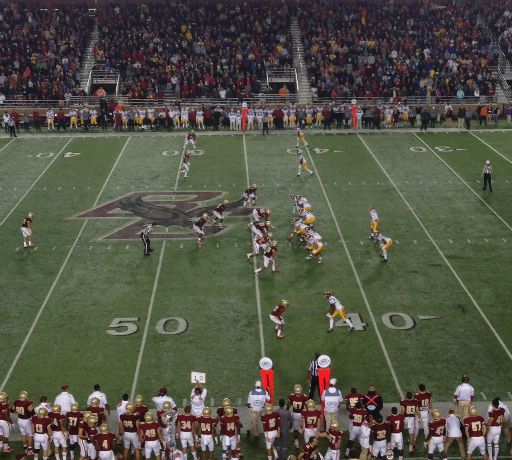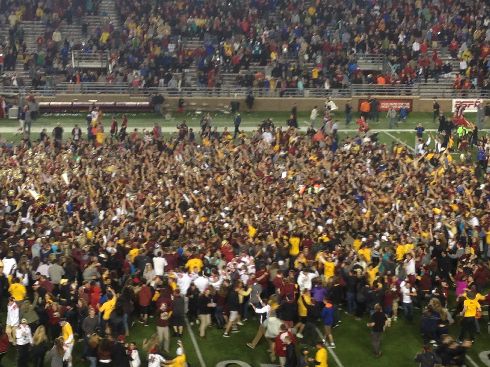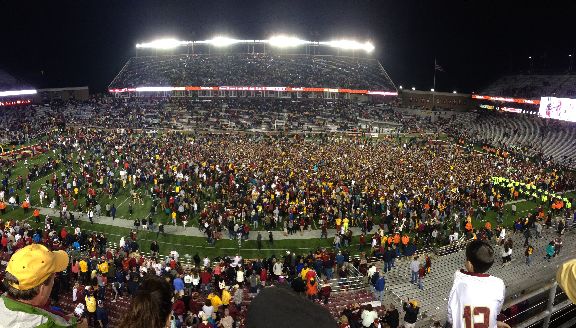 ---
Thursday, August 28, 2014
Season Opener on Saturday
Boston College will kick off the 2014 on Saturday afternoon when they face UMass in Gillette Stadium. The Eagles are a 17-point favorite. The prospects for the remainder of the season are not so bright. BC was picked to finish sixth in the ACC's Atlantic Division (ahead of Wake Forest) in the preseason media poll. Florida State was chosen by 109 of 112 voters to win the Atlantic.
The low expectations come as no surprise. The Eagles were a respectable 7-6 last season (after winning just two games in 2012) but lost their all-time leading rusher, all-time leading receiver, all-time leading scorer, a four-year starter at quarterback, both starting tackles, and two defensive starters who were chosen in the NFL Draft. BC has only nine returning starters, three on offense. Needless to say, this looks like a rebuilding year.
The likely starter at quarterback will be University of Florida transfer Tyler Murphy. The 6'2" Senior from Connecticut played in eight games for the Gators last season, passing for 1,216 yards with 6 TDs and 5 INTs. In his final game last season, he passed for 305 yards but also had three interceptions. Freshman Darius Wade is Murphy's likely backup. BC will have some experience at the running back position. Sophomore Myles Willis had 60 carries last season, averaging a healthy 5.8 yards per rush. Tyler Rouse, another Sophomore, looked good in limited action against Arizona in the Advocare Bowl. To say the wide receivers/tight ends are inexperienced is a huge understatement. After Bobby Swigert (who won't play in the season opener), BC's most experienced pass-catcher is Junior Dan Crimmins who has 10 career receptions. Among the potential starters at wide receiver are third string quarterback Josh Bordner and four freshmen. BC does not have a tight end who has caught a pass as a BC Eagle. The best news for the BC offense is that they return three starters on the offensive line and have a left tackle (Seth Betancourt) with solid experience.
On defense, the BC front seven was decimated by graduation. Edebali, Ramsey, Divitto and Pierre-Louis were the key players in a BC run defense that was ranked 58th last year nationally after an abysmal 111th (out of 120) the year before. The key player in the front seven this season will likely be Senior defensive tackle Mehdi Abdesmad who was off to a good start last season before a knee injury ended his season in September. At linebacker, Seniors Josh Keyes and Sean Duggan and Junior Steven Daniels will be playing alongside a lot of freshman and sophomores. Keeping Duggan and Daniels healthy will be critical. The only place where BC wasn't devastated by graduation was the defensive backfield. Manuel Asprilla, Bryce Jones, Dominque Williams and Sean Sylvia all have at least 10 career starts (24 for Sylvia). On the down side, the BC pass defense ranked 111th nationally last season. So, it's a group that has a lot of experience not covering receivers very well. Hopefully, the experience of playing together in 2013 will pay dividends for the secondary this season.
Nate Freese had a phenomenal career for Boston College. It's unfortunate that he didn't play for some of the stronger Boston College teams of prior years because his clutch kicking could have made a much bigger impact. It looks like the punting and placekicking torch will be passed on to Junior Alex Howell. Bryce Jones is expected to return both kicks and punts.
At first glance the outlook for 2014 is grim. The Eagles lost a ton of talent from a team that was pretty mediocre and they don't have any obvious blue chip talent to replace what they lost. However, you never know how a college football roster, particularly one with a lot of young players, is going to perform. BC rarely gets a "four star" recruit yet they have produced a lot of excellent college football players over the years and have won more games than many schools who regularly get the four star guys. If BC succeeds in 2014 (I would consider seven wins and a bowl game a success) it will probably be the result of a solid running game and a defense that produces makes more big plays than it gives up. It's hard to imagine BC having a potent passing attack in 2014 but I can envision a successful ball control running attack behind a solid offensive line. Typically, an experienced secondary will create more turnovers. Most of BC's opponents will move the ball but if the Eagles can win the turnover battle, they can steal some games. Even the most talented teams get into trouble if they are -2 or worse in the turnover battle.
There are many ACC previews and predictions out there. Here are a few:
One final note -- the 16th Annual Kevin's Fund Golf Tournament will be held on September 28th at Wayland Country Club. Golfers of all ability levels are welcome. It would be great to see some new faces in addition to the usual participants so if you are interested in playing, please visit the tournament's webpage at kevinsfund.org.
---
2013 BC Football Notes
2012 BC Football Notes
2011 BC Football Notes
2010 BC Football Notes
2009 BC Football Notes
2008 BC Football Notes
2007 BC Football Notes
2006 BC Football Notes
2005 BC Football Notes